Filter
5 Offers
for your holiday in Rome
Beach Hostel
roadsurfer4/58 km from Rome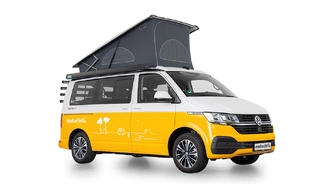 +10
4 adults/1 children
Automatic
Diesel
Kitchen
Unlimited kilometres
2 beds
AC
Pets allowed
€1,119.00
 / 
€79.93

 per night
Urban Plus
McRent4.5/515 km from Rome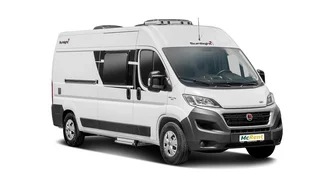 +9
2 adults
Manual
Diesel
Kitchen
Unlimited kilometres
1 beds
AC
Shower/WC
€1,297.00
 / 
€92.64

 per night
Surfer Suite
roadsurfer4/58 km from Rome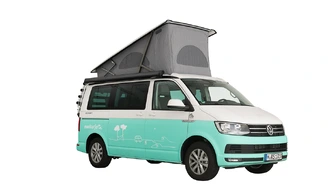 +10
4 adults
Automatic
Diesel
Kitchen
Unlimited kilometres
2 beds
AC
Pets allowed
€1,315.00
 / 
€93.93

 per night
Family Standard
McRent4.5/515 km from Rome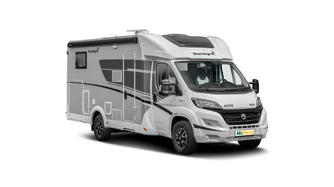 +11
4 adults
Manual
Diesel
Kitchen
Unlimited kilometres
3 beds
AC
Shower/WC
€1,802.00
 / 
€128.71

 per night
Family Classic
rent easy4/514 km from Rome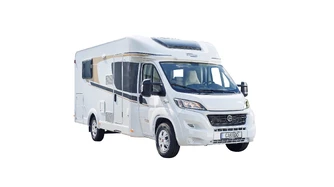 +9
4 adults
Manual
Diesel
Kitchen
250 kilometres per night incl.
3 beds
AC
Shower/WC
€2,172.00
 / 
€155.14

 per night
Destinations and rental stations in Italy
A unique holiday experience
Campervan hire in Italy
How does CamperDays work?
At CamperDays, we are fully aware that searching for a perfect holiday vehicle on your own may often be stressful and overwhelming. That is why we come to your aid with an extremely simple booking system that will turn this task into pleasure. In just a few steps, you will be able to secure your dream campervan with all the equipment you require. The online form should be filled with the selected travel dates.After filling in the dates, you will be presented with a list of available RVs along with their specification and photos. The list can be easily modified by the broad choice of filters. Among the most popular ones, there are availability, type of vehicle, and the number of people that can travel in the campervan. You can also filter the results by rental company. There is a possibility to decrease the price range by using the price range slider. The price display is simple and easy to follow. We guarantee no surcharges on the pick-up.
1. Find a campervan

Simply enter your dates and location to begin your search.

2. Receive offers

Request or book the campervan you want to rent for a great price.

3. Book and go

Complete your booking and your unforgettable adventure can begin!
Why is it worth booking a campervan in Italy early?
With its perfect road conditions and stunning landscapes, Italy is a paradise for campervan fans who would like to spend their holidays behind the wheel. Even though its climate makes the country suitable for travelling virtually all year round, the most popular period for campervan rental is between April and October. This period is also characterised by the highest demand. What steps can you take to ensure you get the greatest choice of vehicles offering a good price-performance ratio? There is nothing easier than be an early bird and book a campervan a little over 4 months in advance. At that time, the competition among travellers is rather low. Thus, you will have the biggest chance to get your dream vehicle at the most affordable price. The average campervan hire in Italy is 137.67 euros per day and the average travel time is 13 days.
You have not decided yet on the exact dates of your holidays? That is not a problem. CamperDays has a brilliant customer service department that will come up with a number of solutions. Transparent cancellation conditions and reservation changes that are free of charge are a guarantee of full flexibility and independence while planning your road adventure. At CamperDays, we have all the answers to your questions.
Campervans allow you to spend time travelling free from all worries connected with planning ahead. You can change your trip schedule whenever you please. An additional benefit will be spending valuable time in the great outdoors, close to nature and its highlights. A campervan is your mobile home that will save you time and effort. Finding a perfect combination of accommodation, affordable restaurants, and a safe rental car is no longer a limitation. Your campervan offers all of that and even more in one vehicle.
FAQ - the most frequently asked questions about campervan hire in Italy
If your driver's licence has been issued in the EU, you do not have to own an International Driving Licence.

Yes, the deposit has to be paid with the main driver's credit card.

Yes, but you should notify the rental company if you plan on crossing borders.

Many companies have nothing against pets in their vehicles. You can always check the rental conditions for more details.

Never camp wild in Italy as it is strictly forbidden.

It depends on the campervan hire company. Usually, drivers have to be at least 21 years old, but some vehicles are available to 18-year-olds.

Most of the rental companies apply no special restrictions when it comes to travelling with babies.
Which rental companies are available in Italy?
Categories of campervans in Italy
Small campervans
2 - 4 people
Fuel consumption: 10 - 20 l / 100 km
For people who don't need much space
Pros: mobile, compact, low rental price
Luxury motorhomes
3 - 7 people
Fuel consumption: ca. 25 l / 100 km
For people who like high comfort
Pros: spacious, high comfort, exclusive equipment
Large motorhomes
3 - 7 people
Fuel consumption: ca. 25 - 35 l / 100 km
For experienced drivers
Pros: comfortable, spacious
4WD campervans
2 - 4 people
Fuel consumption: ca. 16 l / 100 km
For people who love exploring the landscape
Pros: powerful engine, all-terrain
Truck campervan
2 - 5 people
Fuel consumption: ca. 30 l / 100 km
For intermediate drivers
Pros: all-terrain, comfortable, mobile, powerful engine
Semi-integrated
Semi-integrated campervans are very popular for longer trips around Italy. They will be perfect for families with children or for groups of 4. They always come with a range of practical features that allows you to stay fully independent throughout the whole trip.
Panel truck
Panel trucks are characterised by their compact size. In comparison to other much larger vehicles, they offer low fuel consumption and great manoeuvrability. Owing to that, parking in the cities will be a piece of cake. Panel trucks are a comfortable means of transport for couples.
More than 300 locations worldwide
Worldwide campervan rental
Experience an Alaskan winter, explore the Australian Outback or a road trip on Route 66 –
renting a campervan is the best way to travel any part of the world! Discover
the ideal starting point for your holiday at our international locations. At
CamperDays you can rent a campervan from the USA, Canada, Australia, New Zealand, and many other destinations.
Internationally, we work with many well-established providers who rent out
campervans/motorhomes: from Cruise America and Road Bear RV, who are well-known
U.S. rental companies, to Jucy, whose core business is Australia and New
Zealand, and Apollo, which is a global company with lots of locations in Europe,
Australia and New Zealand.
Discover gorgeous cities, sunny Mediterranean beaches, deep green forests, and endless mountain ranges across Europe. With an RV, you are the master of your own destiny. Whether you want to visit multiple countries or linger around in one area for a longer period,
having a motorhome at your disposal gives you plenty of choices.
Compare the prices for different campervans, locations, and dates in our price comparison tool and find the most affordable option for your trip.
You don't have to go far to have an amazing motorhome holiday. The UK, with its diverse regions, is an ideal destination to travel to with a campervan.
Explore the gorgeous Scottish Highlands and the numerous castles spread across the UK. Get into nature on a multi-day hike in the national parks. Admire the history and architecture in the age-old cities. Or simply combine all of the above on a camper trip of a lifetime!
Expert advice

We will help you find the perfect campervan for your trip

Wide selection

Our partners are available across the globe at more than 300 locations

No hidden costs

We guarantee clear pricing and 100% transparency