The most popular campervan destinations
Rent campervans worldwide
Holiday-makers of all kinds rent campervans. Finding the right campervan can be difficult to narrow down but we suggest focussing on the following criteria:
Size of the group
Location
Budget
Depending on the number of passengers, vehicles of different length, equipment and rental prices will suit your needs for your journey. What's more, you can rent a campervan that is specially designed to meet your additional needs.
For example, at CamperDays you can book vehicles with an automatic gearbox or diesel engine depending on the location and campervan rental company. Simply use our filters on the left side in the search results. Many rental companies also allow pets so you can take your four-legged friend with you on your personal adventure.
Usually a differentiation is made between the following vehicle classes:
Campervan rental worldwide
Snow flurries in Alaska, the Outback of Australia, the Highways of the USA or the culturally rich cities of Germany - if you rent a campervan, you can explore the world as you please! Finally you can rent vehicles with CamperDays at the most renowned motorhome rentals worldwide and discover ideal starting points for your holiday at the international rental stations. At CamperDays you can, for example, rent a campervan in the following countries: USA, Canada, Australia, New Zealand, Sweden, Iceland and some other destinations.
Germany itself has a well-established network of Rental Stations. As a result, you can start your special journey within Germany in cities and regions such as: Berlin, Hamburg, Munich, Cologne, North Rhine-Westphalia, Leipzig, Stuttgart, Hannover, Dortmund, Frankfurt or Dusseldorf.
The most widespread providers in Germany are DRM and McRent, offering you a diverse and modern rental pool as well as a comprehensive service package.
Internationally, there are additional well-known providers available who rent out campervans/motorhomes: Cruise America and Road Bear RV are well-established rental companies in the U.S., Jucy's core business is Australia and New Zealand. Apollo has been set up worldwide, in the U.S., Australia and New Zealand.
How does CamperDays work?
Whether city trips, beach vacations or trips through nature - with a campervan you rent the freedom to arrange your leisure time completely according to individual ideas! You can flexibly discover new places and countries and experience the country and its people up close. Plan your own route and linger to your heart's content in cities that you like, or in the midst of picturesque natural landscapes. If you rent a campervan, make your holiday your personal adventure and spend an unforgettable time with your loved ones!
Experience campervan rentals and a unique holiday feeling!
Depending on the type of vehicle, couples, students or entire families can find place to call home. As a rule, all models are extensively equipped, which makes the vehicle a comfortable travelling companion and retreat. Here you can find sleeping space and space to relax. You can cook together and plan your next route.
The vehicles always have a functional and intelligent room layout: For example, large campervans feature a separate living and sleeping area, and alcove beds above the driver's cab. The seating group in the interior can be often be converted to a comfortable sleeping place overnight. Smaller models in particular often have slide-out beds where the side walls of the vehicle can be moved outwards for more space.
Hobs, refrigerators and freezer compartments also enable optimum food on board. A toilet and shower are also part of the basic equipment of many models. With a campervan, you are renting a hotel on four wheels and also benefit, in addition to the facilities, from the high mobility that lets you travel whatever the weather. Even on days with continuous rain you won't have to lose a valuable holiday day - simply travel toward the sun!
Tip: Test drive
If you are renting a campervan for the first time, then a first trial run on the premises of the rental station is recommended. Especially in the case of a larger campervan the driving behaviour sometimes differs greatly from that of a common car. A first test run will quickly give you a feeling of driving away from the traffic. When you pick up your campervan, a member of the campervan rental staff will also give you instruction on all the functions of the campervan - here you will also have the opportunity to ask questions and clear up any uncertainties.
Our CamperDays team of experts can help in planning your journey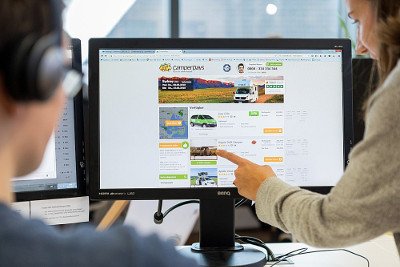 +49-221-16790-120
CamperDays supports you in planning your adventure and helps you rent the right campervan. We will provide you with a comprehensive price comparison of the established campervan rental companies around the world and provide you with the respective leasing criteria in a clear and transparent way. In this way you get a complete overview of all costs incurred by you. The danger of hidden fees is thus excluded.
You would like to rent a campervan, but there are still uncertainties? If you have any questions about your booking you can also contact us by phone and our travel experts will be happy to help you. More than ten years of experience in the travel industry make us your competent contact for your interests. We look forward to hearing from you!
What advantages does CamperDays offer?
Comprehensive comparison of campervans and RVs worldwide
Offers from many renowned campervan rental companies
No hidden costs and full cost control
Simply pay with your credit card
Free advice from our travel experts