45 offers
for your holiday in Auckland
Jucy Crib
Jucy3.3(14 Reviews)4 km from Auckland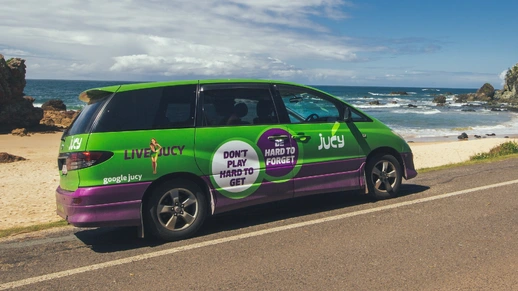 +9
2 adults
Automatic
Petrol
Kitchen
Unlimited kilometres
1 beds
AC
€1,498.00
 / 
€107.00

 per night
Beta
Spaceships4.2(11 Reviews)9 km from Auckland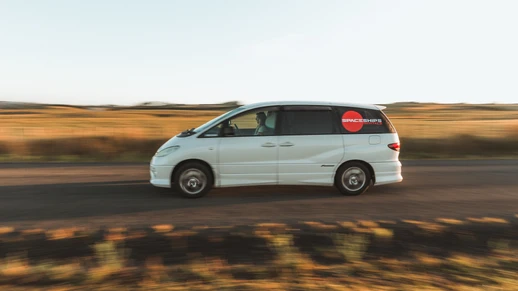 +12
2 adults
Automatic
Petrol
Kitchen
Unlimited kilometres
1 beds
AC
Pets allowed
€1,553.00
 / 
€110.93

 per night
Beta 2S
Spaceships4.2(11 Reviews)9 km from Auckland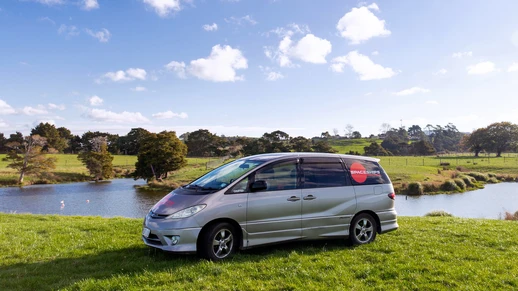 +10
2 adults
Automatic
Petrol
Kitchen
Unlimited kilometres
1 beds
AC
Pets allowed
€1,594.00
 / 
€113.86

 per night
Dream Sleeper Mini
Spaceships4.2(11 Reviews)9 km from Auckland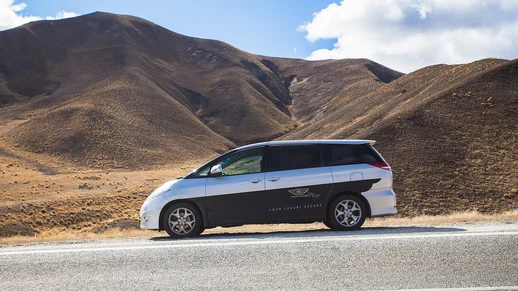 +8
2 adults
Automatic
Petrol
Kitchen
Unlimited kilometres
1 beds
AC
€1,638.00
 / 
€117.00

 per night
Dream Sleeper Mini Stealth
Spaceships4.2(11 Reviews)9 km from Auckland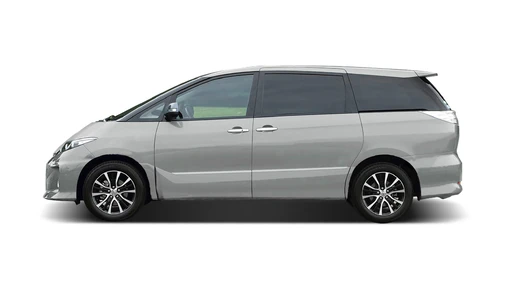 +6
2 adults
Automatic
Petrol
Kitchen
Unlimited kilometres
1 beds
AC
€1,680.00
 / 
€120.00

 per night
Beta 2S SC (self-contained)
Spaceships4.2(11 Reviews)9 km from Auckland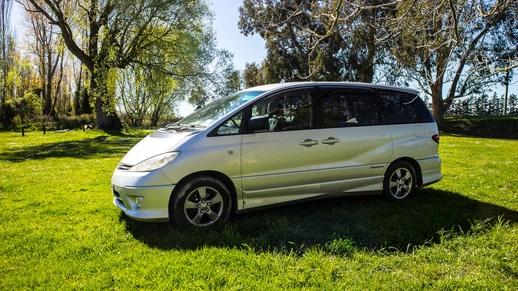 +10
2 adults
Automatic
Petrol
Kitchen
Unlimited kilometres
1 beds
AC
€2,155.00
 / 
€153.93

 per night
Beta 2S SC (self-contained) Stealth
Spaceships4.2(11 Reviews)9 km from Auckland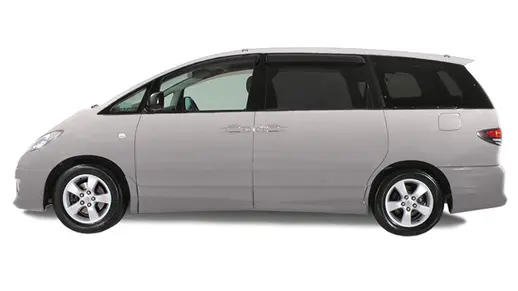 +5
2 adults
Automatic
Petrol
Kitchen
Unlimited kilometres
1 beds
AC
€2,254.00
 / 
€161.00

 per night
Hippie Hitop Camper
Hippie4.4(5 Reviews)2 km from Auckland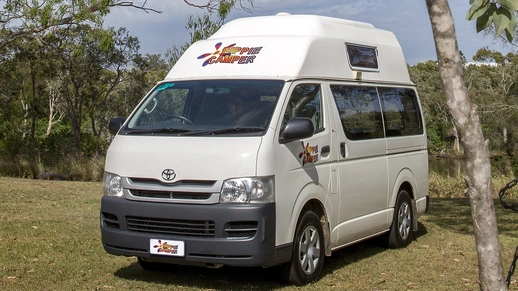 +9
2 adults
Petrol
Kitchen
Unlimited kilometres
1 beds
AC
€2,527.00
 / 
€180.50

 per night
Hippie Endeavour
Hippie4.4(5 Reviews)2 km from Auckland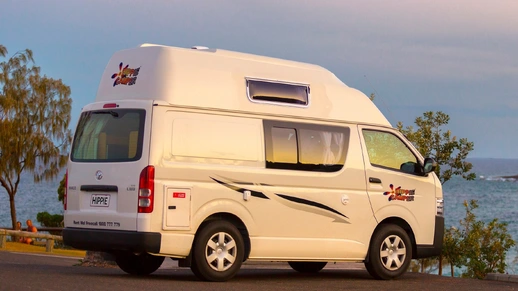 +11
2 adults/2 children
Petrol
Kitchen
Unlimited kilometres
2 beds
AC
€2,578.00
 / 
€184.14

 per night
Mighty Highball
Mighty4.1(17 Reviews)2 km from Auckland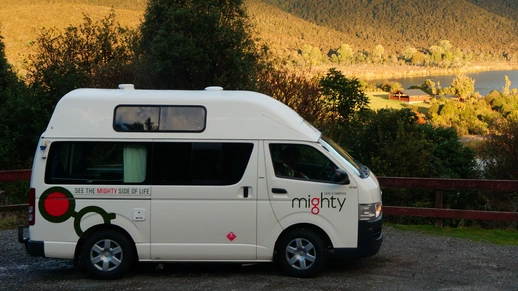 +8
2 adults
Automatic
Kitchen
Unlimited kilometres
AC
€2,670.00
 / 
€190.71

 per night
Mighty Double Down
Mighty4.1(17 Reviews)2 km from Auckland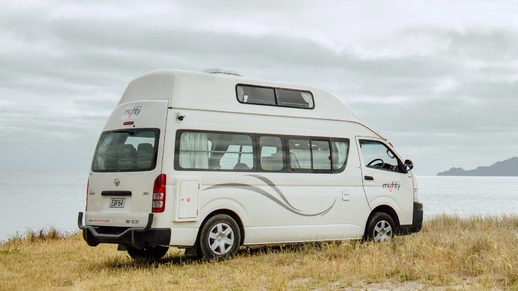 +8
4 adults
Automatic
Kitchen
Unlimited kilometres
AC
€2,759.00
 / 
€197.07

 per night
Cheapa Hitop
Cheapa Campa4.1(11 Reviews)2 km from Auckland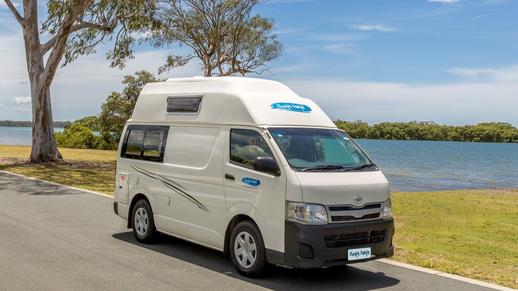 +9
2 adults
Automatic
Kitchen
Unlimited kilometres
1 beds
AC
€2,795.00
 / 
€199.64

 per night
Cheapa Endeavour
Cheapa Campa4.1(11 Reviews)2 km from Auckland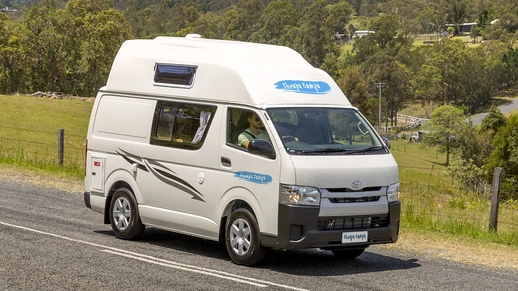 +11
2 adults/2 children
Automatic
Kitchen
Unlimited kilometres
2 beds
AC
€2,850.00
 / 
€203.57

 per night
Apollo Hitop Camper
Apollo4.1(23 Reviews)2 km from Auckland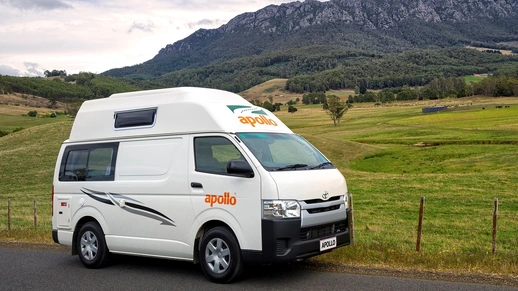 +10
2 adults
Automatic
Kitchen
Unlimited kilometres
1 beds
AC
€2,904.00
 / 
€207.43

 per night
Britz HiTop
Britz4.4(15 Reviews)2 km from Auckland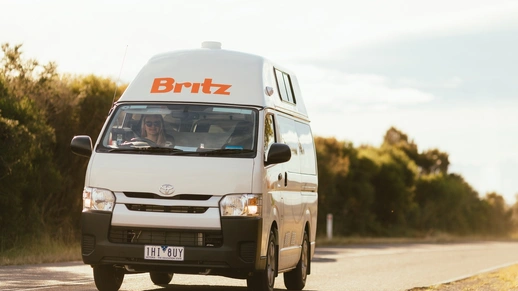 +11
2 adults
Automatic
Kitchen
Unlimited kilometres
1 beds
AC
€2,947.00
 / 
€210.50

 per night
Apollo Endeavour
Apollo4.1(23 Reviews)2 km from Auckland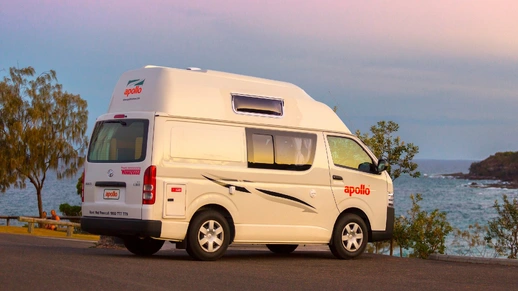 +12
2 adults/2 children
Automatic
Kitchen
Unlimited kilometres
2 beds
AC
€3,020.00
 / 
€215.71

 per night
Britz Voyager
Britz4.4(15 Reviews)2 km from Auckland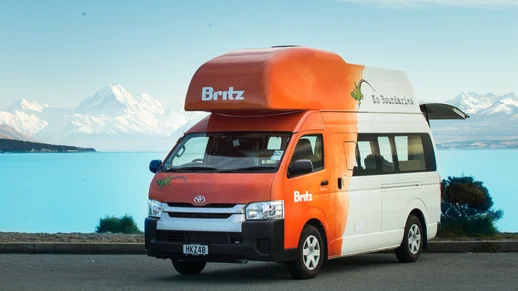 +9
2 adults/2 children
Automatic
Kitchen
Unlimited kilometres
2 beds
AC
€3,052.00
 / 
€218.00

 per night
Mighty Deuce
Mighty4.1(17 Reviews)2 km from Auckland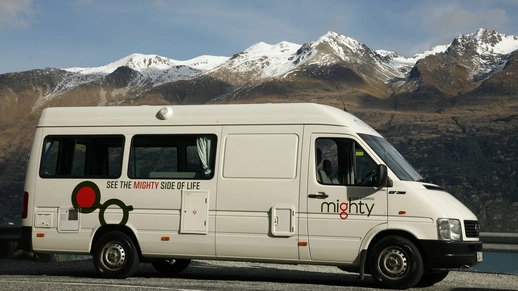 +9
2 adults
Automatic
Diesel
Kitchen
Unlimited kilometres
AC
Shower/WC
€3,482.00
 / 
€248.71

 per night
Mighty Deuce Plus
Mighty4.1(17 Reviews)2 km from Auckland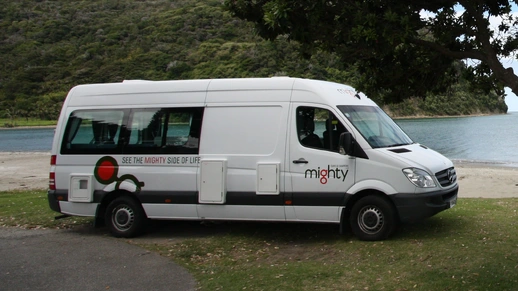 +8
2 adults/1 children
Automatic
Diesel
Kitchen
Unlimited kilometres
AC
Shower/WC
€3,602.00
 / 
€257.29

 per night
Cheapa 2 Berth
Cheapa Campa4.1(11 Reviews)2 km from Auckland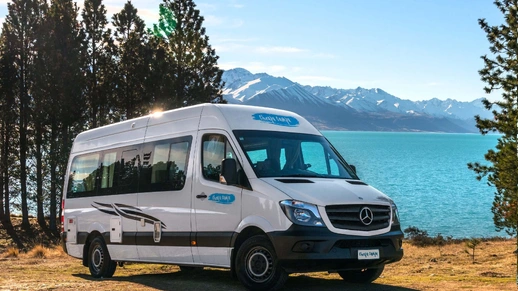 +9
2 adults
Automatic
Diesel
Kitchen
Unlimited kilometres
1 beds
AC
Shower/WC
€3,604.00
 / 
€257.43

 per night
Jucy Chaser
Jucy3.3(14 Reviews)4 km from Auckland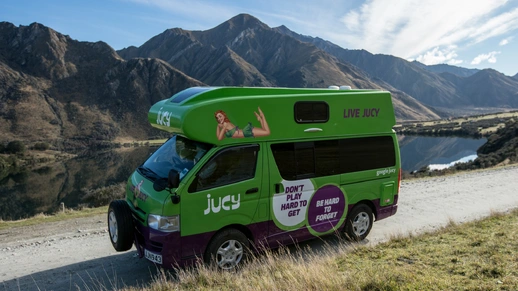 +10
3 adults
Automatic
Petrol
Kitchen
Unlimited kilometres
2 beds
AC
Shower/WC
€3,626.00
 / 
€259.00

 per night
Mighty Double Up
Mighty4.1(17 Reviews)2 km from Auckland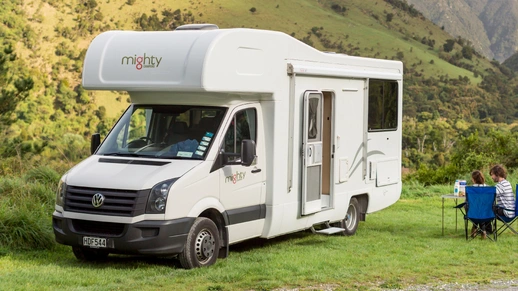 +9
4 adults
Automatic
Diesel
Kitchen
Unlimited kilometres
AC
Shower/WC
€3,685.00
 / 
€263.21

 per night
Apollo Euro Tourer
Apollo4.1(23 Reviews)2 km from Auckland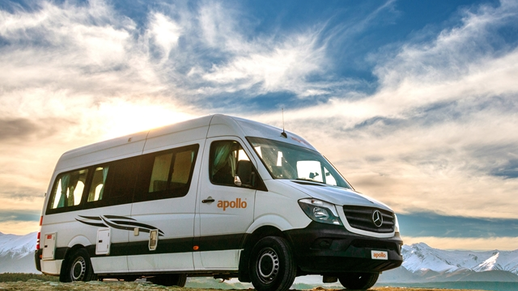 +12
2 adults
Automatic
Diesel
Kitchen
Unlimited kilometres
1 beds
AC
Shower/WC
€3,804.00
 / 
€271.71

 per night
Britz Venturer
Britz4.4(15 Reviews)2 km from Auckland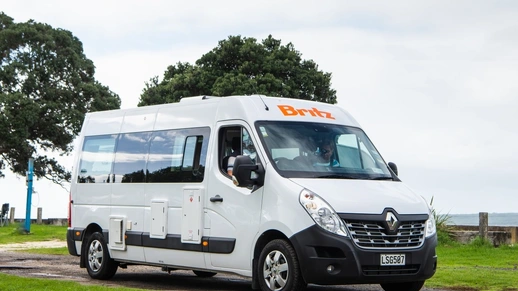 +8
2 adults
Automatic
Diesel
Kitchen
Unlimited kilometres
1 beds
AC
Shower/WC
€3,806.00
 / 
€271.86

 per night
Mighty Big Six
Mighty4.1(17 Reviews)2 km from Auckland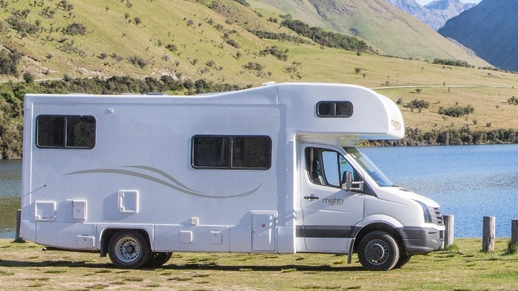 +10
4 adults/2 children
Automatic
Diesel
Kitchen
Unlimited kilometres
AC
Shower/WC
€3,814.00
 / 
€272.43

 per night
Cheapa 4 Berth
Cheapa Campa4.1(11 Reviews)2 km from Auckland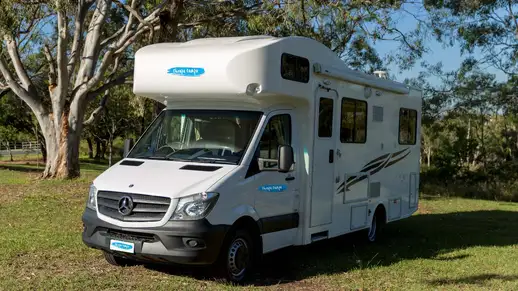 +6
4 adults
Automatic
Diesel
Kitchen
Unlimited kilometres
2 beds
AC
Shower/WC
€3,856.00
 / 
€275.43

 per night
Maui Ultima
Maui4.3(21 Reviews)2 km from Auckland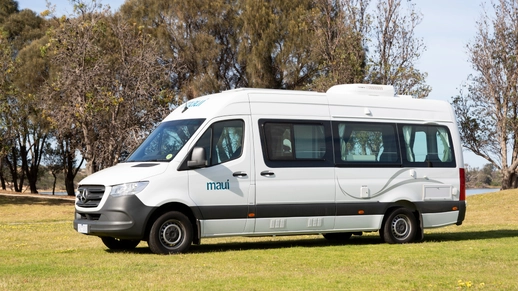 +7
2 adults
Automatic
Diesel
Kitchen
Unlimited kilometres
1 beds
AC
Shower/WC
€3,919.00
 / 
€279.93

 per night
Britz Venturer Plus
Britz4.4(15 Reviews)2 km from Auckland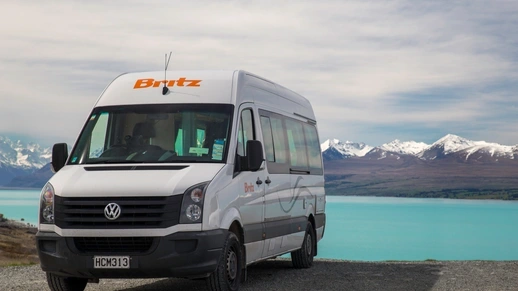 +9
2 adults/1 children
Automatic
Diesel
Kitchen
Unlimited kilometres
2 beds
AC
Shower/WC
€3,935.00
 / 
€281.07

 per night
Cheapa 6 Berth
Cheapa Campa4.1(11 Reviews)2 km from Auckland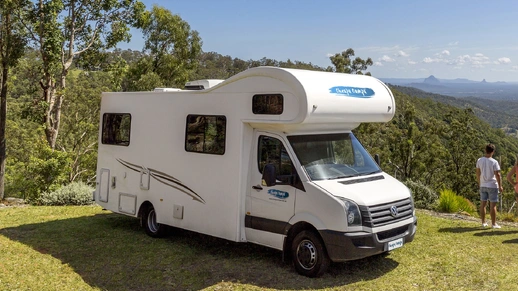 +7
6 adults
Automatic
Diesel
Kitchen
Unlimited kilometres
3 beds
AC
Shower/WC
€3,979.00
 / 
€284.21

 per night
Maui Ultima Plus
Maui4.3(21 Reviews)2 km from Auckland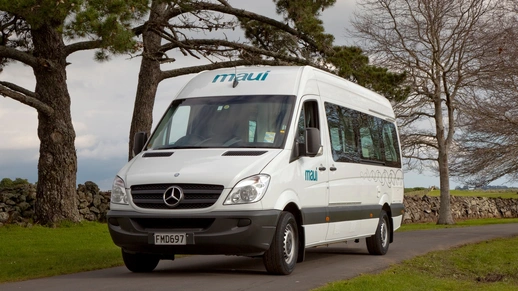 +10
2 adults/1 children
Automatic
Diesel
Kitchen
Unlimited kilometres
2 beds
AC
Shower/WC
€4,040.00
 / 
€288.57

 per night
Maui Cascade
Maui4.3(21 Reviews)2 km from Auckland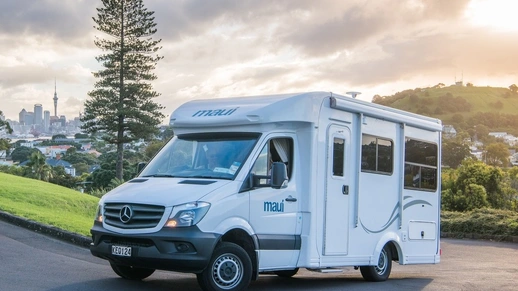 +10
4 adults
Automatic
Diesel
Kitchen
Unlimited kilometres
2 beds
AC
Shower/WC
€4,054.00
 / 
€289.57

 per night
Britz Discovery
Britz4.4(15 Reviews)2 km from Auckland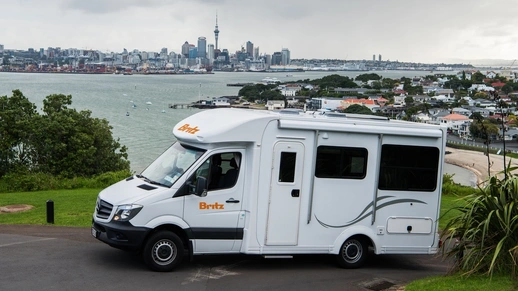 +9
4 adults
Automatic
Diesel
Kitchen
Unlimited kilometres
2 beds
AC
Shower/WC
€4,081.00
 / 
€291.50

 per night
Apollo Euro Deluxe
Apollo4.1(23 Reviews)2 km from Auckland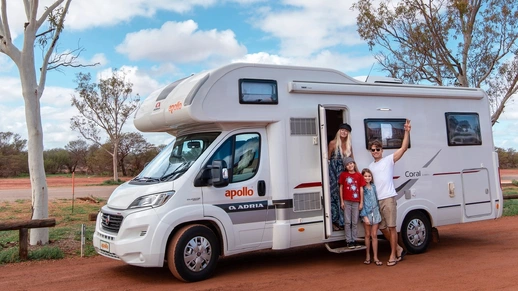 +13
6 adults
Automatic
Diesel
Kitchen
Unlimited kilometres
3 beds
AC
Shower/WC
€4,136.00
 / 
€295.43

 per night
Apollo Euro Camper
Apollo4.1(23 Reviews)2 km from Auckland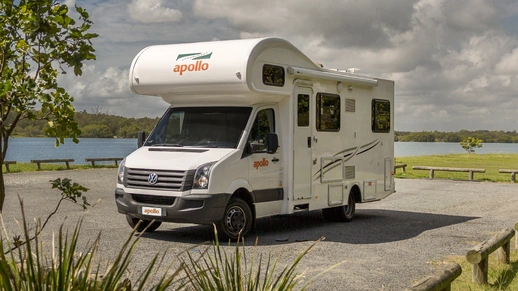 +9
4 adults
Automatic
Diesel
Kitchen
Unlimited kilometres
2 beds
AC
Shower/WC
€4,136.00
 / 
€295.43

 per night
Britz Frontier
Britz4.4(15 Reviews)2 km from Auckland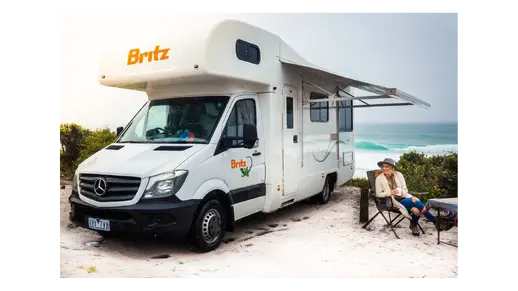 +9
6 adults
Automatic
Diesel
Kitchen
Unlimited kilometres
3 beds
AC
Shower/WC
€4,226.00
 / 
€301.86

 per night
Britz Explorer
Britz4.4(15 Reviews)2 km from Auckland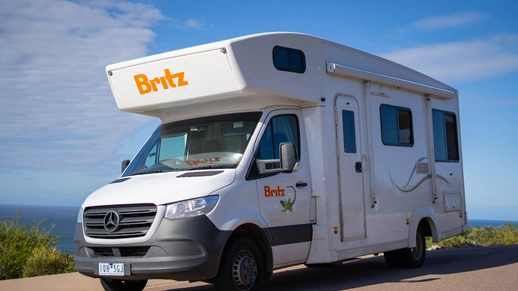 +9
4 adults
Automatic
Diesel
Kitchen
Unlimited kilometres
2 beds
AC
Shower/WC
€4,226.00
 / 
€301.86

 per night
Maui Ultima Elite
Maui4.3(21 Reviews)2 km from Auckland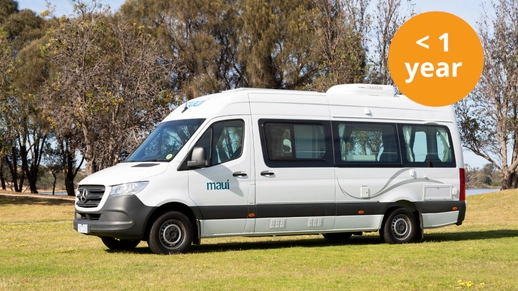 +7
2 adults
Automatic
Diesel
Kitchen
Unlimited kilometres
1 beds
AC
Shower/WC
€4,246.00
 / 
€303.29

 per night
Maui River
Maui4.3(21 Reviews)2 km from Auckland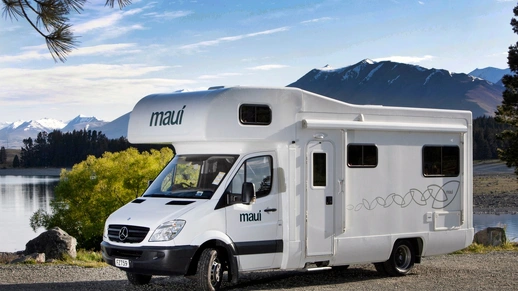 +8
6 adults
Automatic
Diesel
Kitchen
Unlimited kilometres
3 beds
AC
Shower/WC
€4,301.00
 / 
€307.21

 per night
Maui Beach
Maui4.3(21 Reviews)2 km from Auckland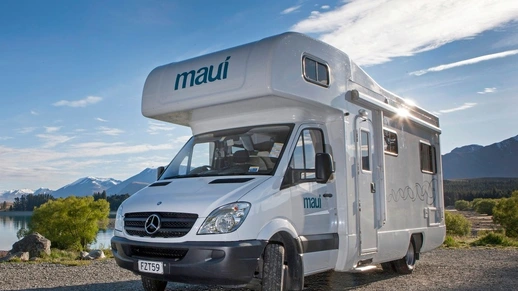 +9
4 adults
Automatic
Diesel
Kitchen
Unlimited kilometres
2 beds
AC
Shower/WC
€4,301.00
 / 
€307.21

 per night
Comfort Standard
McRent4.5(33 Reviews)34 km from Auckland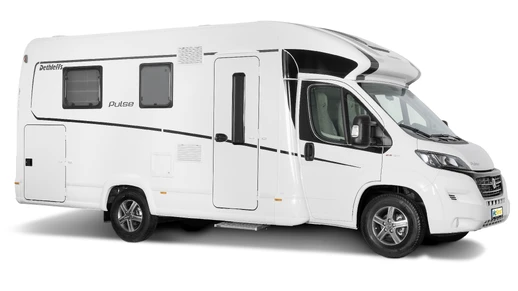 +7
2 adults
Manual
Diesel
Kitchen
Unlimited kilometres
1 beds
AC
Shower/WC
€4,348.00
 / 
€310.57

 per night
Maui Ultima Plus Elite
Maui4.3(21 Reviews)2 km from Auckland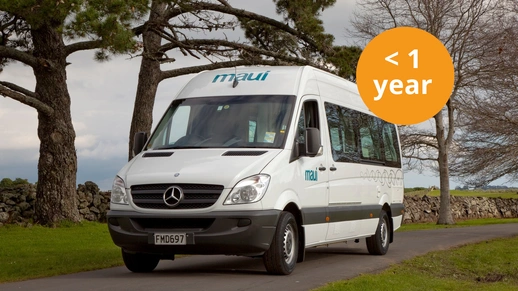 +10
2 adults/1 children
Automatic
Diesel
Kitchen
Unlimited kilometres
2 beds
AC
Shower/WC
€4,367.00
 / 
€311.93

 per night
Maui Cascade Elite
Maui4.3(21 Reviews)2 km from Auckland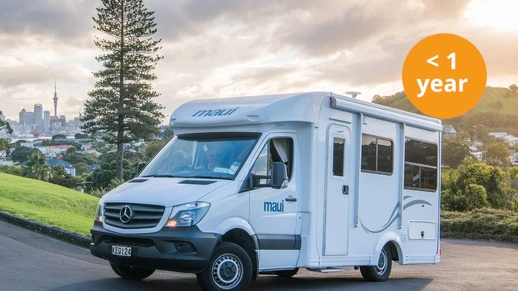 +10
4 adults
Automatic
Diesel
Kitchen
Unlimited kilometres
2 beds
AC
Shower/WC
€4,381.00
 / 
€312.93

 per night
Polaris 6 Nova
STAR4.5(2 Reviews)4 km from Auckland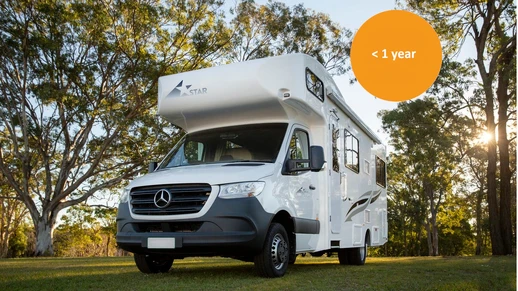 +5
4 adults/2 children
Automatic
Diesel
Kitchen
Unlimited kilometres
3 beds
AC
Shower/WC
€4,569.00
 / 
€326.36

 per night
Maui River Elite
Maui4.3(21 Reviews)2 km from Auckland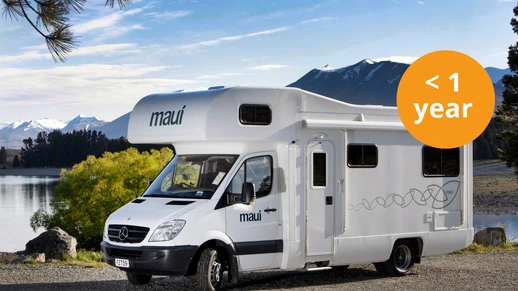 +8
6 adults
Automatic
Diesel
Kitchen
Unlimited kilometres
3 beds
AC
Shower/WC
€4,628.00
 / 
€330.57

 per night
Maui Beach Elite
Maui4.3(21 Reviews)2 km from Auckland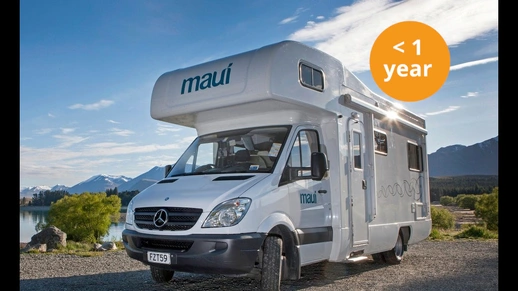 +9
4 adults
Automatic
Diesel
Kitchen
Unlimited kilometres
2 beds
AC
Shower/WC
€4,628.00
 / 
€330.57

 per night
Reviews Overview
CamperDays stands for transparency! That's why we give every customer the opportunity to share their experiences with other customers after their campervan trip.
Further offers in New Zealand: The most popular rental locations
Auckland is one of the most diverse and vibrant cities in New Zealand. It is a lively harbour city with idyllic beaches and tall skyscrapers. There are also volcanic islands and picturesque walks in and around the city, which you can take your time to explore. The city is located on New Zealand's North Island and is known as "Tamaki Makaurau" in Maori, which is the native language in New Zealand. It is the perfect base for discovering lots of wonderful places on the North Island on your next campervan holiday.
Tip: By booking your campervan in advance at CamperDays, you will benefit from cheaper daily rates and you can choose from a wide selection of campervans. Book now to avoid any disappointment and to start planning your dream holiday to Auckland today.
Our partners
Pick-up locations in Auckland and nearby
We need your consent to load the Google Maps service!
We use Google Maps to embed content that may collect data about your activity. Please review the details and accept the service to see this content.
Stations near Auckland
Apollo
13 Manu Tapu Drive
2022 New Zealand
Cheapa Campa
13 Manu Tapu Drive
2022 New Zealand
Hippie
13 Manu Tapu Drive
2022 New Zealand
Maui
13 Manu Tapu Drive
2022 New Zealand
Do You Have Any Questions About Renting a Motorhome?
Would you like to enquire about a motorhome or do you need further information before making a booking? You can contact us without obligation either from Monday to Friday 8am - 4pm by phone or at any time via our online contact form.
Useful Tips for Camping in Auckland
The best time to visit Auckland is from March to May and September to November. During these months you can enjoy the low season with pleasant temperatures.
Auckland offers an abundance of exciting outdoor activities such as canoeing, snorkelling and lots of beautiful walks around the city. Adventure seekers can enjoy bungee jumping from the Sky Tower or Auckland Harbour Bridge.

In and around Auckland there are many fantastic beaches that are not too far from the city. You will be spoilt for choice as there are more than 80 beaches to choose from, where you can enjoy lots of sunny days at the beach.

During the winter in Auckland the temperatures are still generally quite pleasant. You can still enjoy relaxing walks or a day at the beach. For skiing or snowboarding, you could plan a long weekend and visit Mount Ruapehu.
Campervan offers for couples in Auckland
For a romantic trip for two exploring Auckland and other cities nearby, a smaller motorhome is just right. Discover our selection of vehicles for two people and explore together.


Campervan offers for families in Auckland
If you want to go on a family camping holiday in Auckland, we recommend a large motorhome. Alcove models are very popular with families with children, as the motorhomes are spacious and have several sleeping and seating areas.


Campervan offers for dog owners in Auckland
Whether it's a campervan or a classic motorhome, there are now several rental companies in Auckland that allow pets in their vehicles. In the CamperDays search, you can easily search for suitable offers using the "Pets allowed" filter.


Best Campervan Routes
Here at CamperDays we aren't only campervan experts, as we also have great tips on fantastic campervan routes in and around Auckland. Below you will find a small list of campervan routes:
Do you love being by the sea? If so, discover the Coromandel Peninsula and visit the beautiful Cathedral Cove and Te Hoho Rock on the North Island. You can then drive to Rotorua and relax in one of the hot springs.
This route stretches over 96miles and it runs between Stratford and Taumarunui on the North Island. Here you can explore heritage sites or go hiking in nature reserves. By driving to Strathmore Saddle you will get great views of volcanoes.
The total distance of this route is 603 miles. On this route you will be blown away by just how stunning the scenery in New Zealand is. You will see lots of rolling green hills, crystal-clear lakes and amazing beaches. There are plenty of places to stop off and stretch your legs, whilst taking in the beautiful scenery on your way down to Wellington.
Things To Do and See
Hot Water Beach, Coromandel: all you will need to do is take your spade with you and dig yourself a spa. Natural hot water will flow through the sand. It is recommended to go there within 2 hours of low tide so that your freshly dug spa won't be washed away.

Hunua Ranges Regional Park: this park has the largest area of native forest near Auckland. Upon arrival, you will be left speechless by the breathtaking Huna Falls and from there you can choose one of the many walking trails to explore.

West Coast Beaches: these beaches are known for their black sand and wild coastline. There are lots of beaches to choose from, such as Muriwai, Piha and Te Henga. They are popular with surfers and walkers.

Whangaparaoa: this peninsula near Auckland has fantastic bays and beaches where you can enjoy a relaxing afternoon. Shakespear Regional Park, known for its beauty, is also a popular place for recreational activities.
Campsites in Auckland
Stone Bay Campsite
589/660 Stony Bay Road
Port Charles 3584, New Zealand - near Hot Water Beach.

Ambury Park Campground
43 Ambury Road, Māngere Bridge
Auckland 2022, New Zealand - ideal for visitingHunua Ranges Regional Park.
Muriwai Beach Campground
451 Motutara Road, Muriwai
Auckland, New Zealand – near Muriwai Beach.

Red Beach Top 10
23 Marie Avenue, Red Beach Hibiscus Coast 0932
Auckland, New Zealand – ideal for visiting Whangaparaoa.
FAQ - the most frequently asked questions about campervan hire in Auckland
Yes, you can legally camp in any local authority area unless camping is specifically prohibited.

If you would like to make a campfire you will need to obtain a fire permit.

Beaches in New Zealand are not always patrolled by lifeguards, therefore, it is advised to be extra careful as there could be rip currents. The beaches that are patrolled by lifeguards have marked areas with flags where it is safe to swim.

You can drive a campervan in New Zealand if you are aged 18 or over and you have a valid UK passport and a full UK driving licence.
More than 700 locations worldwide
Worldwide campervan rental
Compare the prices for different campervans, locations, and dates in our price comparison tool and find the most affordable option for your trip.
We will help you find the perfect campervan for your trip

Our partners are available across the globe at more than 700 locations

We guarantee clear pricing and 100% transparency