45 offers
for your holiday in Auckland
Jucy Crib
Jucy3.3(14 Reviews)4 km from Auckland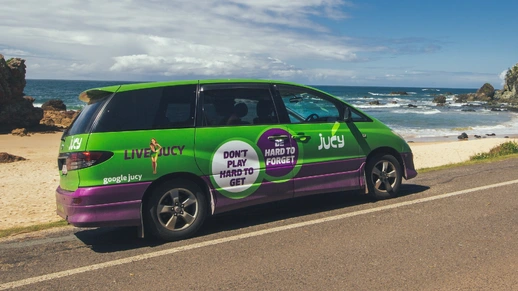 +9
2 adults
Automatic
Petrol
Kitchen
Unlimited kilometres
1 beds
AC
€1,498.00
 / 
€107.00

 per night
Beta
Spaceships4.2(11 Reviews)9 km from Auckland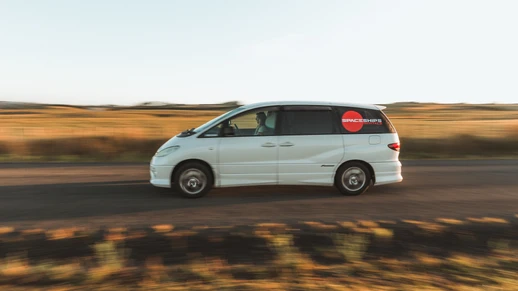 +12
2 adults
Automatic
Petrol
Kitchen
Unlimited kilometres
1 beds
AC
Pets allowed
€1,553.00
 / 
€110.93

 per night
Beta 2S
Spaceships4.2(11 Reviews)9 km from Auckland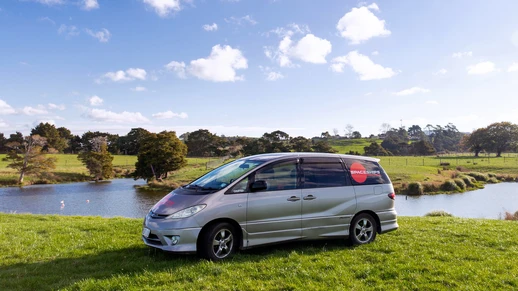 +10
2 adults
Automatic
Petrol
Kitchen
Unlimited kilometres
1 beds
AC
Pets allowed
€1,594.00
 / 
€113.86

 per night
Dream Sleeper Mini
Spaceships4.2(11 Reviews)9 km from Auckland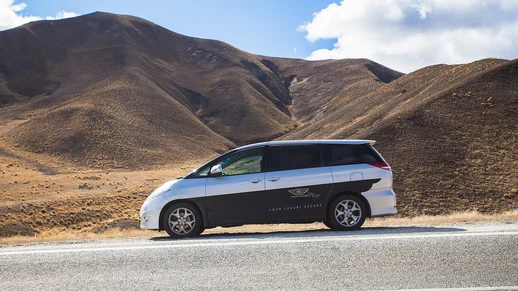 +8
2 adults
Automatic
Petrol
Kitchen
Unlimited kilometres
1 beds
AC
€1,638.00
 / 
€117.00

 per night
Dream Sleeper Mini Stealth
Spaceships4.2(11 Reviews)9 km from Auckland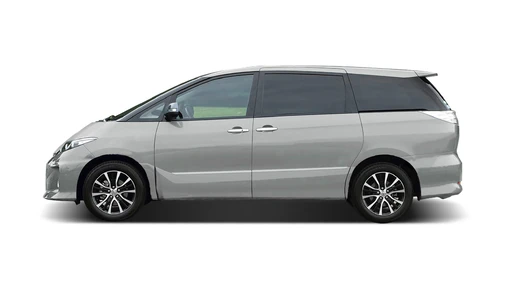 +6
2 adults
Automatic
Petrol
Kitchen
Unlimited kilometres
1 beds
AC
€1,680.00
 / 
€120.00

 per night
Beta 2S SC (self-contained)
Spaceships4.2(11 Reviews)9 km from Auckland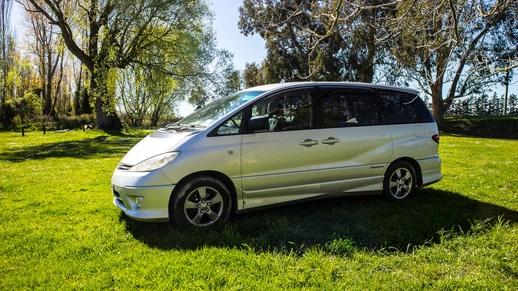 +10
2 adults
Automatic
Petrol
Kitchen
Unlimited kilometres
1 beds
AC
€2,155.00
 / 
€153.93

 per night
Beta 2S SC (self-contained) Stealth
Spaceships4.2(11 Reviews)9 km from Auckland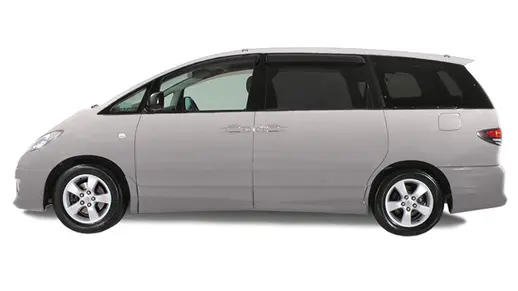 +5
2 adults
Automatic
Petrol
Kitchen
Unlimited kilometres
1 beds
AC
€2,254.00
 / 
€161.00

 per night
Hippie Hitop Camper
Hippie4.4(5 Reviews)2 km from Auckland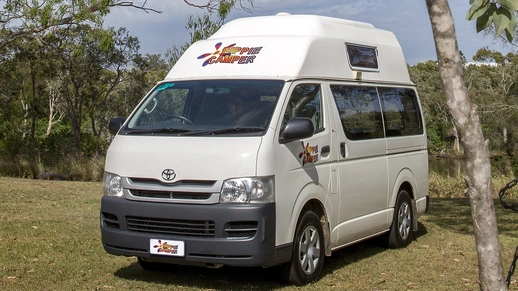 +9
2 adults
Petrol
Kitchen
Unlimited kilometres
1 beds
AC
€2,527.00
 / 
€180.50

 per night
Hippie Endeavour
Hippie4.4(5 Reviews)2 km from Auckland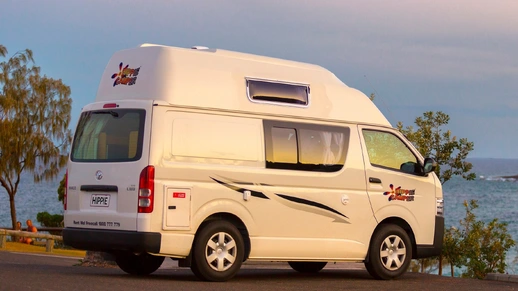 +11
2 adults/2 children
Petrol
Kitchen
Unlimited kilometres
2 beds
AC
€2,578.00
 / 
€184.14

 per night
Mighty Highball
Mighty4.1(17 Reviews)2 km from Auckland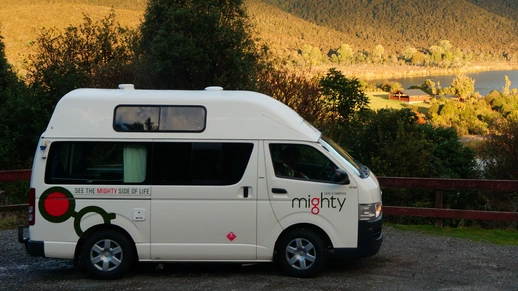 +8
2 adults
Automatic
Kitchen
Unlimited kilometres
AC
€2,670.00
 / 
€190.71

 per night
Mighty Double Down
Mighty4.1(17 Reviews)2 km from Auckland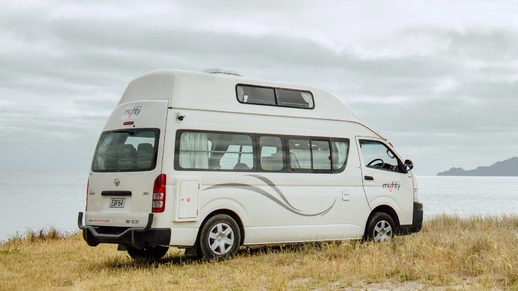 +8
4 adults
Automatic
Kitchen
Unlimited kilometres
AC
€2,759.00
 / 
€197.07

 per night
Cheapa Hitop
Cheapa Campa4.1(11 Reviews)2 km from Auckland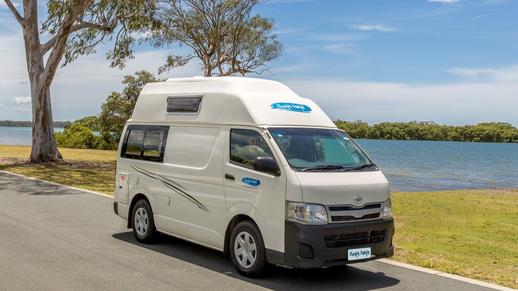 +9
2 adults
Automatic
Kitchen
Unlimited kilometres
1 beds
AC
€2,795.00
 / 
€199.64

 per night
Cheapa Endeavour
Cheapa Campa4.1(11 Reviews)2 km from Auckland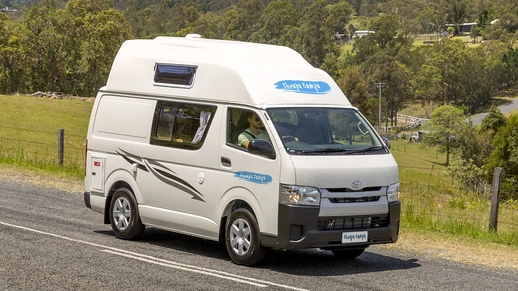 +11
2 adults/2 children
Automatic
Kitchen
Unlimited kilometres
2 beds
AC
€2,850.00
 / 
€203.57

 per night
Apollo Hitop Camper
Apollo4.1(23 Reviews)2 km from Auckland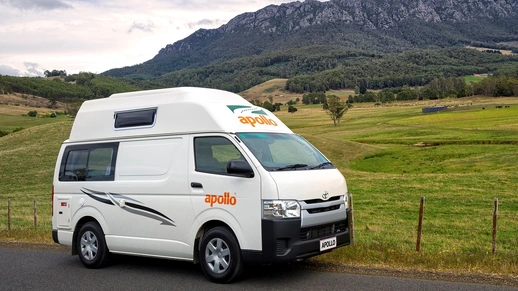 +10
2 adults
Automatic
Kitchen
Unlimited kilometres
1 beds
AC
€2,904.00
 / 
€207.43

 per night
Britz HiTop
Britz4.4(15 Reviews)2 km from Auckland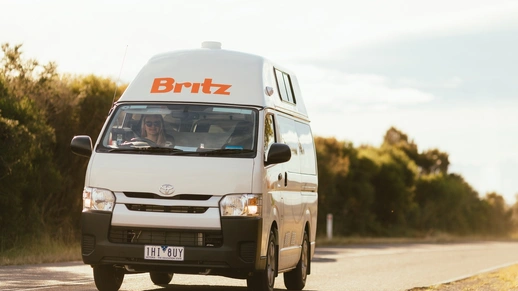 +11
2 adults
Automatic
Kitchen
Unlimited kilometres
1 beds
AC
€2,947.00
 / 
€210.50

 per night
Apollo Endeavour
Apollo4.1(23 Reviews)2 km from Auckland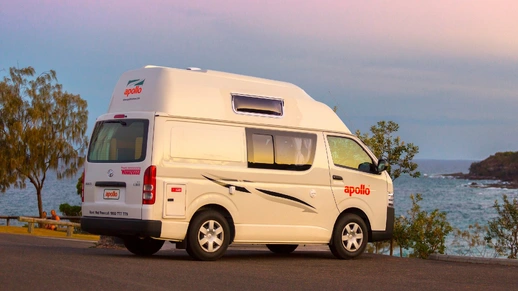 +12
2 adults/2 children
Automatic
Kitchen
Unlimited kilometres
2 beds
AC
€3,020.00
 / 
€215.71

 per night
Britz Voyager
Britz4.4(15 Reviews)2 km from Auckland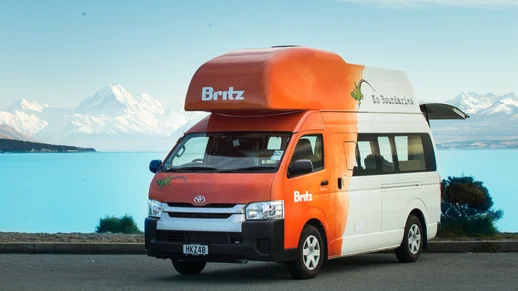 +9
2 adults/2 children
Automatic
Kitchen
Unlimited kilometres
2 beds
AC
€3,052.00
 / 
€218.00

 per night
Mighty Deuce
Mighty4.1(17 Reviews)2 km from Auckland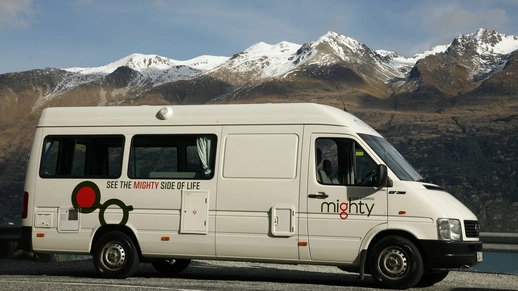 +9
2 adults
Automatic
Diesel
Kitchen
Unlimited kilometres
AC
Shower/WC
€3,482.00
 / 
€248.71

 per night
Mighty Deuce Plus
Mighty4.1(17 Reviews)2 km from Auckland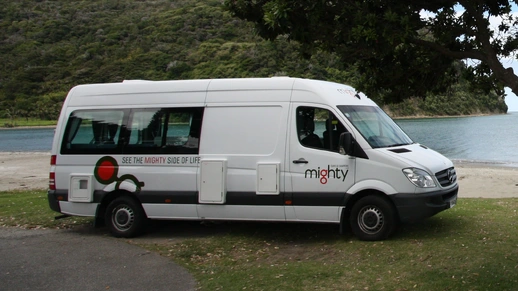 +8
2 adults/1 children
Automatic
Diesel
Kitchen
Unlimited kilometres
AC
Shower/WC
€3,602.00
 / 
€257.29

 per night
Cheapa 2 Berth
Cheapa Campa4.1(11 Reviews)2 km from Auckland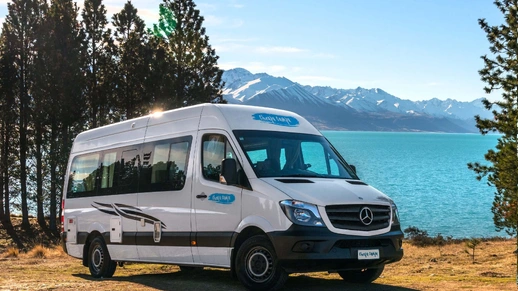 +9
2 adults
Automatic
Diesel
Kitchen
Unlimited kilometres
1 beds
AC
Shower/WC
€3,604.00
 / 
€257.43

 per night
Jucy Chaser
Jucy3.3(14 Reviews)4 km from Auckland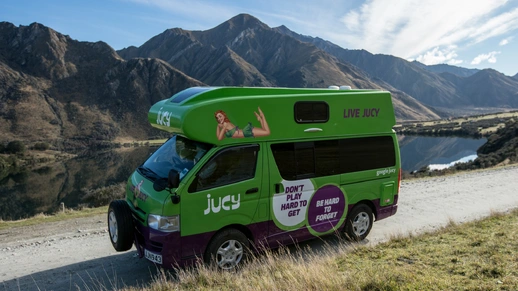 +10
3 adults
Automatic
Petrol
Kitchen
Unlimited kilometres
2 beds
AC
Shower/WC
€3,626.00
 / 
€259.00

 per night
Mighty Double Up
Mighty4.1(17 Reviews)2 km from Auckland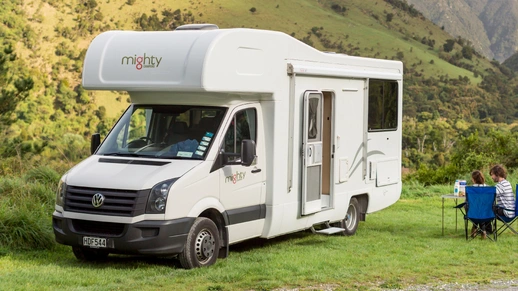 +9
4 adults
Automatic
Diesel
Kitchen
Unlimited kilometres
AC
Shower/WC
€3,685.00
 / 
€263.21

 per night
Apollo Euro Tourer
Apollo4.1(23 Reviews)2 km from Auckland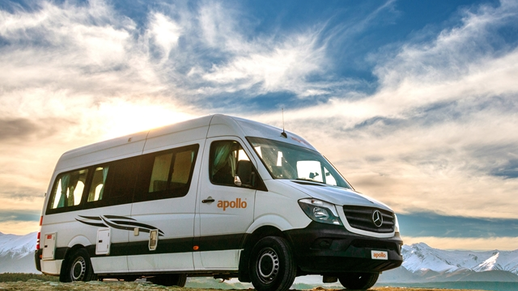 +12
2 adults
Automatic
Diesel
Kitchen
Unlimited kilometres
1 beds
AC
Shower/WC
€3,804.00
 / 
€271.71

 per night
Britz Venturer
Britz4.4(15 Reviews)2 km from Auckland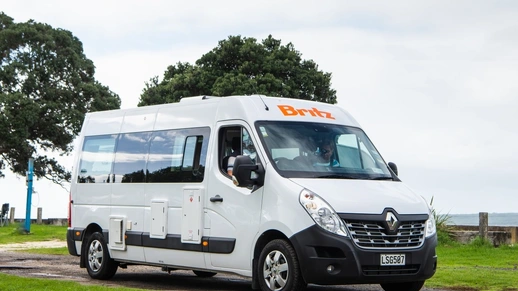 +8
2 adults
Automatic
Diesel
Kitchen
Unlimited kilometres
1 beds
AC
Shower/WC
€3,806.00
 / 
€271.86

 per night
Mighty Big Six
Mighty4.1(17 Reviews)2 km from Auckland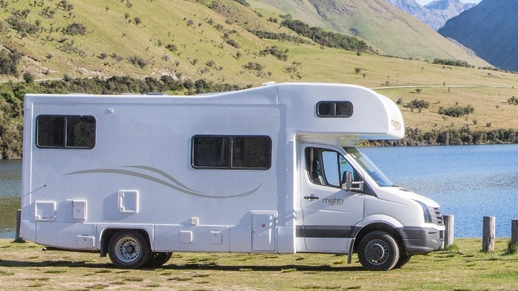 +10
4 adults/2 children
Automatic
Diesel
Kitchen
Unlimited kilometres
AC
Shower/WC
€3,814.00
 / 
€272.43

 per night
Cheapa 4 Berth
Cheapa Campa4.1(11 Reviews)2 km from Auckland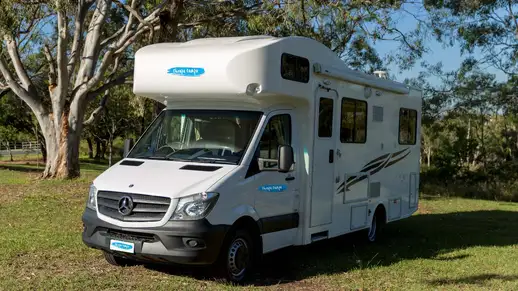 +6
4 adults
Automatic
Diesel
Kitchen
Unlimited kilometres
2 beds
AC
Shower/WC
€3,856.00
 / 
€275.43

 per night
Maui Ultima
Maui4.3(21 Reviews)2 km from Auckland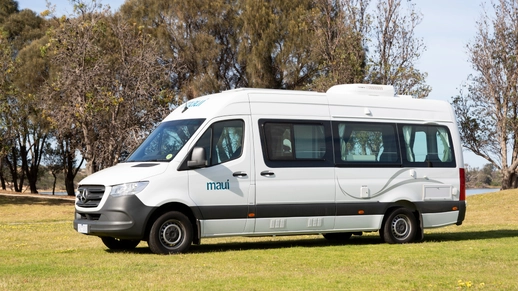 +7
2 adults
Automatic
Diesel
Kitchen
Unlimited kilometres
1 beds
AC
Shower/WC
€3,919.00
 / 
€279.93

 per night
Britz Venturer Plus
Britz4.4(15 Reviews)2 km from Auckland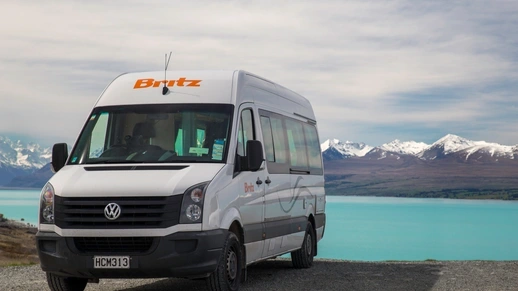 +9
2 adults/1 children
Automatic
Diesel
Kitchen
Unlimited kilometres
2 beds
AC
Shower/WC
€3,935.00
 / 
€281.07

 per night
Cheapa 6 Berth
Cheapa Campa4.1(11 Reviews)2 km from Auckland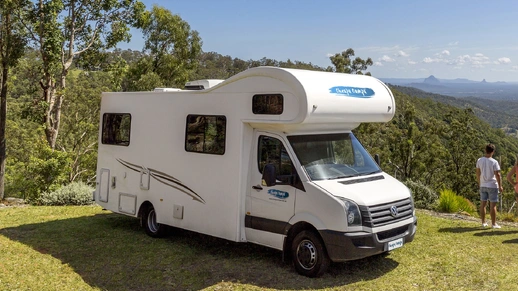 +7
6 adults
Automatic
Diesel
Kitchen
Unlimited kilometres
3 beds
AC
Shower/WC
€3,979.00
 / 
€284.21

 per night
Maui Ultima Plus
Maui4.3(21 Reviews)2 km from Auckland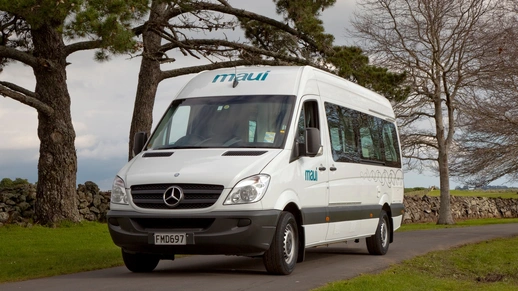 +10
2 adults/1 children
Automatic
Diesel
Kitchen
Unlimited kilometres
2 beds
AC
Shower/WC
€4,040.00
 / 
€288.57

 per night
Maui Cascade
Maui4.3(21 Reviews)2 km from Auckland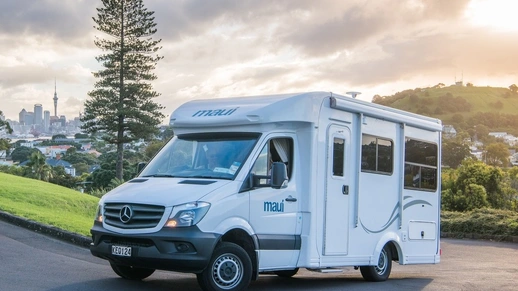 +10
4 adults
Automatic
Diesel
Kitchen
Unlimited kilometres
2 beds
AC
Shower/WC
€4,054.00
 / 
€289.57

 per night
Britz Discovery
Britz4.4(15 Reviews)2 km from Auckland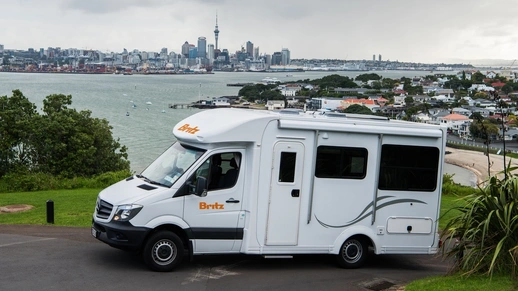 +9
4 adults
Automatic
Diesel
Kitchen
Unlimited kilometres
2 beds
AC
Shower/WC
€4,081.00
 / 
€291.50

 per night
Apollo Euro Deluxe
Apollo4.1(23 Reviews)2 km from Auckland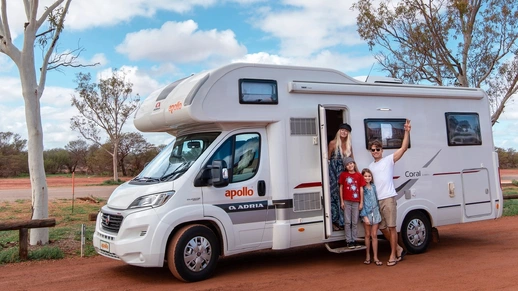 +13
6 adults
Automatic
Diesel
Kitchen
Unlimited kilometres
3 beds
AC
Shower/WC
€4,136.00
 / 
€295.43

 per night
Apollo Euro Camper
Apollo4.1(23 Reviews)2 km from Auckland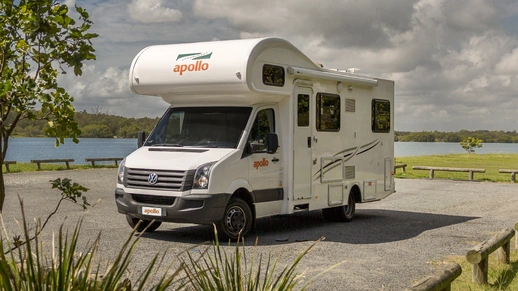 +9
4 adults
Automatic
Diesel
Kitchen
Unlimited kilometres
2 beds
AC
Shower/WC
€4,136.00
 / 
€295.43

 per night
Britz Frontier
Britz4.4(15 Reviews)2 km from Auckland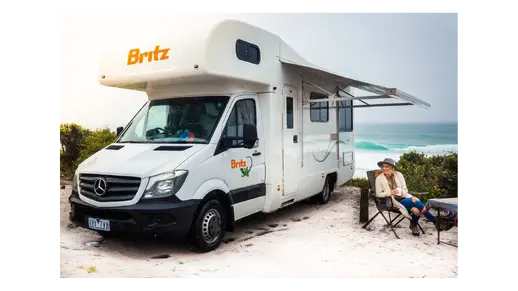 +9
6 adults
Automatic
Diesel
Kitchen
Unlimited kilometres
3 beds
AC
Shower/WC
€4,226.00
 / 
€301.86

 per night
Britz Explorer
Britz4.4(15 Reviews)2 km from Auckland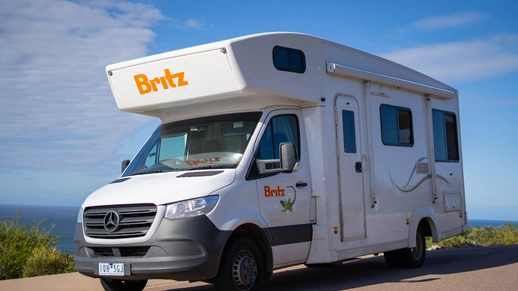 +9
4 adults
Automatic
Diesel
Kitchen
Unlimited kilometres
2 beds
AC
Shower/WC
€4,226.00
 / 
€301.86

 per night
Maui Ultima Elite
Maui4.3(21 Reviews)2 km from Auckland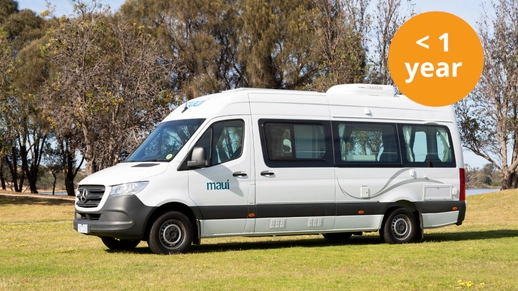 +7
2 adults
Automatic
Diesel
Kitchen
Unlimited kilometres
1 beds
AC
Shower/WC
€4,246.00
 / 
€303.29

 per night
Maui River
Maui4.3(21 Reviews)2 km from Auckland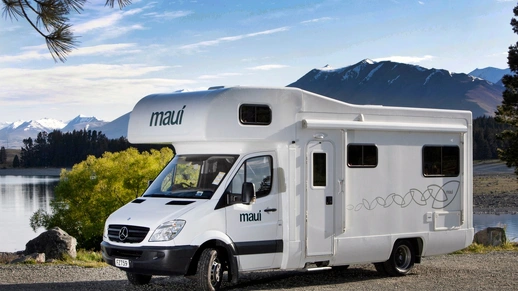 +8
6 adults
Automatic
Diesel
Kitchen
Unlimited kilometres
3 beds
AC
Shower/WC
€4,301.00
 / 
€307.21

 per night
Maui Beach
Maui4.3(21 Reviews)2 km from Auckland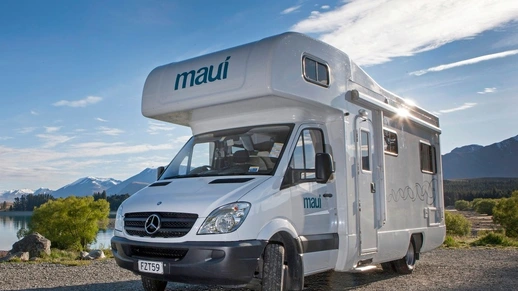 +9
4 adults
Automatic
Diesel
Kitchen
Unlimited kilometres
2 beds
AC
Shower/WC
€4,301.00
 / 
€307.21

 per night
Comfort Standard
McRent4.5(33 Reviews)34 km from Auckland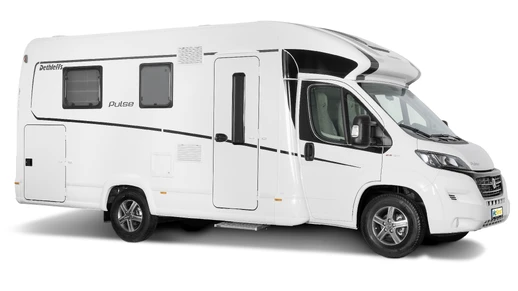 +7
2 adults
Manual
Diesel
Kitchen
Unlimited kilometres
1 beds
AC
Shower/WC
€4,348.00
 / 
€310.57

 per night
Maui Ultima Plus Elite
Maui4.3(21 Reviews)2 km from Auckland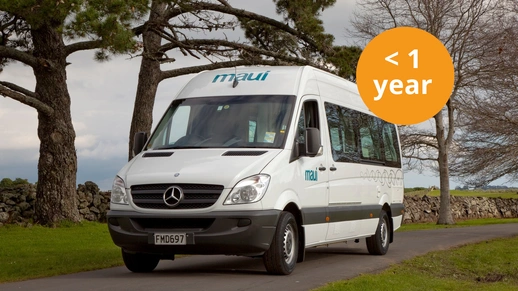 +10
2 adults/1 children
Automatic
Diesel
Kitchen
Unlimited kilometres
2 beds
AC
Shower/WC
€4,367.00
 / 
€311.93

 per night
Maui Cascade Elite
Maui4.3(21 Reviews)2 km from Auckland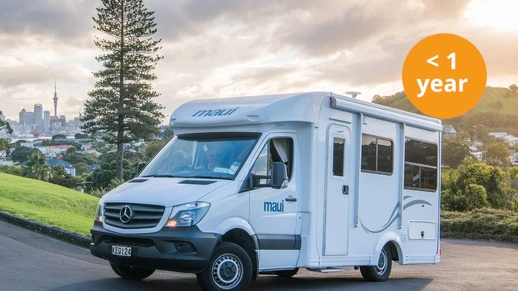 +10
4 adults
Automatic
Diesel
Kitchen
Unlimited kilometres
2 beds
AC
Shower/WC
€4,381.00
 / 
€312.93

 per night
Polaris 6 Nova
STAR4.5(2 Reviews)4 km from Auckland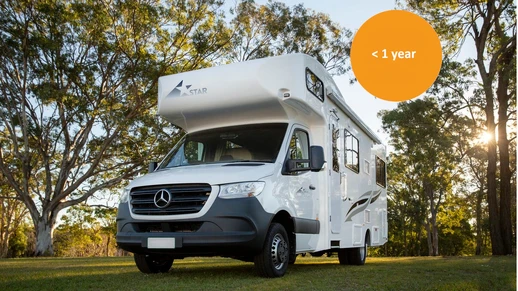 +5
4 adults/2 children
Automatic
Diesel
Kitchen
Unlimited kilometres
3 beds
AC
Shower/WC
€4,569.00
 / 
€326.36

 per night
Maui River Elite
Maui4.3(21 Reviews)2 km from Auckland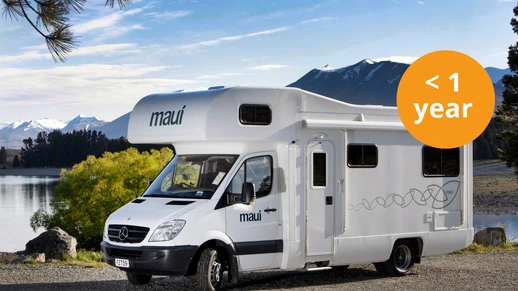 +8
6 adults
Automatic
Diesel
Kitchen
Unlimited kilometres
3 beds
AC
Shower/WC
€4,628.00
 / 
€330.57

 per night
Maui Beach Elite
Maui4.3(21 Reviews)2 km from Auckland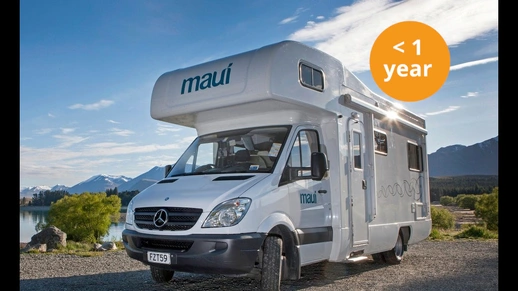 +9
4 adults
Automatic
Diesel
Kitchen
Unlimited kilometres
2 beds
AC
Shower/WC
€4,628.00
 / 
€330.57

 per night
Reviews Overview
CamperDays stands for transparency! That's why we give every customer the opportunity to share their experiences with other customers after their campervan trip.
All pickup stations in New Zealand
Exploring New Zealand by campervan is a great way to discover the two main islands, the North Island and the South Island.
North Island is well known for its rugged coastline, beaches and hot springs. The stunning Tongariro National Park is perfect for hiking. If you prefer to relax at the beach then why not stop off at one of the beaches in the Bay of Islands.
The South Island is famous for its outstanding beauty. Here you will find lots of untouched natural wonders. Visit the West Coast which is famous for mountains, rainforests, glaciers and lakes. The South Island has a sparse population, therefore, you won't have to worry about large crowds.
Tip: By booking your campervan in advance, you will benefit from cheaper daily rates and you can choose from a wide selection of campervans. Book now to avoid any disappointment.
Our Partners
Which rental companies are available in New Zealand?
We only work with selected and trusted partners in New Zealand that have many years of experience and modern fleets, so you are guaranteed to find the right vehicle for your holiday of a lifetime.
Campervan fans will find a number of rental companies to choose from in New Zealand. The most popular ones are JUCY Rentals, Apollo, and Britz.
JUCY Rentals
JUCY Rentals is the most popular campervan hire company in New Zealand. It offers a variety of options for travellers who prefer smaller campervans. JUCY Rentals is available in the following cities:
Auckland

Christchurch

Queenstown
Apollo
Apollo provides travellers with a wide choice of both small and large campervans. Regardless of the option you choose, all of their vehicles are fully equipped and come with unlimited mileage. Apollo is available in the following cities:
Auckland

Christchurch

Queenstown
Britz
Britz is a combination of comfort and quality. The company offers a wide choice of different vehicles size-wise. Their basic package includes airport transfer and unlimited kilometres. Britz can be found in the following cities:
Auckland

Christchurch

Queenstown
Many rental companies in New Zealand offer airport transfer for your convenience. Please contact the selected rental company beforehand. Most of the branches are also easily reachable by public transport or taxi.
Do You Have Any Questions About Renting a Motorhome?
Would you like to enquire about a motorhome or do you need further information before making a booking? You can contact us without obligation either from Monday to Friday 8am - 4pm by phone or at any time via our online contact form.
Useful Tips for Camping in New Zealand
The best time to rent a campervan in New Zealand is during the summer which is from December to March. You can drive a campervan in New Zealand if you have a full UK driving licence and UK passport and you are aged 18 or over.
During the summer months you can enjoy lots of different outdoor activities, such as hiking, swimming and mountain biking.

New Zealand's coast is dotted with numerous beautiful beaches, which are known for their golden sand and turquoise waters. You can take a walk along one of the beaches or sit back after a long drive and watch the sunset.

During the winter New Zealand doesn't generally get too cold. The average temperature ranges from 12°C - 16°C, which means you can enjoy your holiday during the low season. This is the perfect time of year for nature lovers who can enjoy views of snow-capped mountains and rugged landscapes.
Campervan offers for couples in New Zealand
For a romantic trip for two exploring New Zealand and other cities nearby, a smaller motorhome is just right. Discover our selection of vehicles for two people and explore together.


Campervan offers for families in New Zealand
If you want to go on a family camping holiday in New Zealand, we recommend a large motorhome. Alcove models are very popular with families with children, as the motorhomes are spacious and have several sleeping and seating areas.


Campervan offers for dog owners in New Zealand
Whether it's a campervan or a classic motorhome, there are now several rental companies in New Zealand that allow pets in their vehicles. In the CamperDays search, you can easily search for suitable offers using the "Pets allowed" filter.


Best Campervan Routes
Here at Camperdays we aren't only campervan experts, as we also like to give our customers helpful tips so that they can get the most out of their holiday. Below you will find a small list of fantastic campervan routes in New Zealand:
Do you love being by the sea? If so, discover the Coromandel Peninsula and visit the beautiful Cathedral Cove and Te Hoho Rock on the North Island. You can then drive to Rotorua and relax in one of the hot springs.
This route stretches over 96½ miles and it runs between Stratford and Taumarunui on the North Island. Here you can explore heritage sites or go hiking in nature reserves. By driving to Strathmore Saddle, you will get great views of volcanoes.
Lake Tekapo to Mount Cook
This route is on the South Island and you can visit Lake Tekapo, which is one of the most beautiful lakes on the island. Tekapo is a great place to stop off and spend the night stargazing or relaxing in a hot spring. After a relaxing evening go on a short drive to visit the Mount Cook National Park.
Driving in New Zealand
In New Zealand they also drive on the left just like in the UK. Lots of roads are hilly, narrow and winding, therefore, it may take longer to drive to some places.

The roads in New Zealand are very busy during summer and early autumn (December-April). Make sure to take extra care when driving in winter in case of snow and ice.

The following speed limits apply when driving in New Zealand: motorways and outside built up areas 100 km/h (62 mph) and in urban areas 50 km/h (31 mph) or 70 km/h (43 mph), but make sure to always look out for road signs that show the speed limit for that area.
Things To Do and See
Hot Water Beach, Coromandel: All you will need to do is take your spade with you and dig yourself a spa. Natural hot water will flow through the sand, which is perfect for sitting back and relaxing. It is recommended to go there within 2 hours of low tide so that your freshly dug spa won't be washed away. This is truly a relaxing experience.

Tongariro Alpine Crossing: This is one of the best walks in New Zealand. On this route you will see rugged volcanic terrain and unforgettable views of Mount Ngauruhoe, as well as craters and lakes. The walk takes around 6-8 hours and the total distance is 12 miles.

Mount Ruapeh's Crater Lake: Mount Ruapehu is an active volcano in the Tongariro National Park. You can start your hike from Iwikau Ski Village and hike to Waterfalls Trail and then to Knoll Ridge. The walk takes around 5 hours and the total distance is 6½ miles.

Maitai Bay: This beach is popular with a lot of New Zealanders. It offers crystal clear waters and soft white sand, which makes it the ultimate summer escape. Enjoy lots of activities such as swimming, snorkelling and kayaking.
Popular events in New Zealand
Auckland International Buskers Festival (January): for 4 days, the centre of Auckland is full of lively local and international entertainment from fire breathing, balancing acts, acrobatic, rola bola, comedy cyr wheel and so much more.
Rhythm and Alps (December):Rhythm and Alps is the South Island's largest music festival. Over 3 days, up to 10,000 people gather and enjoy some of NZ's best music.
Hokitika Wild Food Festival (March): each March, the small town of Hokitika on the middle of the west coast on the South Island, hosts the wild food festival packed full of local delicacies, fresh fish, wild meats, music and entertainment.
March Fest (March): in Nelson at the top of the South Island, hosts this craft beer festival. Situated in Founders Park, a full-sized mock village based on early settler's homes, the festival is packed full of local foods, beer and music.
Crankworx Mountain bike Festival (November): each November Crankworx world tour visits Rotorua and attracts bikers from around the world. Even if you don't bike, it is worth watching the best bikers show off their skills on jumps and berms for the chance to get crowned the King or Queen of Crankworx.
Campsites in New Zealand
Mawley Holiday Park
Oxford Street 5
5810, Masterton

Maitai Bay Campground
Matai Bay Road 515
0483, Karikari Peninsula
Muriway Beach
Motutara Road
0881, Muriwari

Kiwi Picton Campervan Park
Kent Street 42, 7220
Picton, Nieuw-Zeeland
Questions and Answers
The most frequently asked questions about a camper holiday in New Zealand
Yes, you can legally camp in any local authority area unless camping is prohibited in that particular are provided your vehicle is certified self-contained.

Campsites without power will cost between £6.50 and £16.00. Campsites with power will cost between £7.50 and £19.00. Prices also vary depending on the campsite location and facilities.

If you would like to start a campfire you will need to obtain a fire permit.
More than 700 locations worldwide
Worldwide campervan rental
Compare the prices for different campervans, locations, and dates in our price comparison tool and find the most affordable option for your trip.
We will help you find the perfect campervan for your trip

Our partners are available across the globe at more than 700 locations

We guarantee clear pricing and 100% transparency