Filter
5 Offers
for your holiday in Madrid
Compact Plus
McRent4.5/511 km from Madrid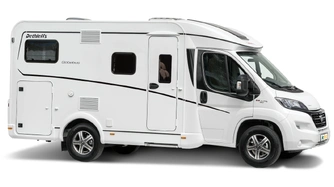 +7
2 adults
Manual
Diesel
Kitchen
Unlimited kilometres
2 beds
AC
Shower/WC
€1,394.00
 / 
€99.57

 per night
Urban Luxury
McRent4.5/511 km from Madrid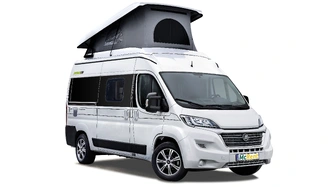 +8
4 adults
Manual
Diesel
Kitchen
Unlimited kilometres
2 beds
AC
Shower/WC
€1,549.00
 / 
€110.64

 per night
Family Standard
McRent4.5/511 km from Madrid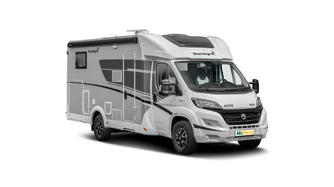 +11
4 adults
Manual
Diesel
Kitchen
Unlimited kilometres
3 beds
AC
Shower/WC
€1,781.00
 / 
€127.21

 per night
Family Luxury
McRent4.5/511 km from Madrid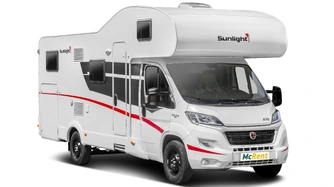 +9
4 adults/2 children
Manual
Diesel
Kitchen
Unlimited kilometres
3 beds
AC
Shower/WC
€2,090.00
 / 
€149.29

 per night
Comfort Luxury
McRent4.5/511 km from Madrid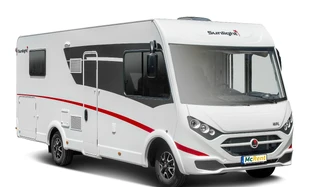 +9
4 adults
Manual
Diesel
Kitchen
Unlimited kilometres
2 beds
AC
Shower/WC
€2,323.00
 / 
€165.93

 per night
A unique holiday experience
Campervan hire in Spain
How does CamperDays work?
Whether city trips, beach vacations or trips through nature - with a campervan you rent the freedom to arrange your leisure time completely according to individual ideas! You can flexibly discover new places and countries and experience the country and its people up close. Plan your own route and linger to your heart's content in cities that you like, or in the midst of picturesque natural landscapes. If you rent a campervan, make your holiday your personal adventure and spend an unforgettable time with your loved ones!
1. Find a campervan

Simply enter your dates and location to begin your search.

2. Receive offers

Request or book the campervan you want to rent for a great price.

3. Book and go

Complete your booking and your unforgettable adventure can begin!
Why is it worth booking a campervan in Spain early?
Travellers visiting Spain will be delighted with the diverse attractions that the country has to offer. Its mild climate, seaside resorts, and architectural masterpieces make it a perfect holiday destination – one that can be easily explored in a campervan. Even though Spain is suitable for holidays all year round, the months characterised by the highest demand for campervan hire are May, June, September, October, and December. How to secure the best deal and a vehicle with the best performance-price ratio? Well, there is nothing simpler to do than rent a campervan a little more than 3 months in advance. Early booking is a guarantee of the widest choice of interesting vehicles and the most affordable options. Travellers will have to pay the average price of 115.69 euros per day for campervan rental.
If you have any doubts about your campervan rental, there is nothing simpler to do than contact the CamperDays customer service department. Our experts will provide you with plenty of brilliant ideas. An additional advantage for potential customers is also transparent cancellation conditions. If your holiday plans happen to change in the future, we will not charge you extra for any reservation changes.
A campervan offers the greatest number of exploration opportunities. The average travel time in Spain is 14 days. Travelling in a motorhome will save you money that you would otherwise spend on accommodation, restaurants, and car rental. Also, you do not have to worry about finding affordable airline tickets. With an RV, you stay totally independent of any flight or bus schedules.
FAQ - the most frequently asked questions about campervan hire in Spain
A driving licence that has been issued in the EU will be enough to rent a campervan in Spain.

Yes, the deposit has to be paid with the main driver's credit card.

Most rental companies in Spain allow pets in their campervans. Please, check the rental conditions for more information.

Yes, you can cross borders while travelling around Spain, but you need to inform the rental company about your plans beforehand.

Camping wild in Spain is strictly forbidden and will be penalised.

Usually, campervan hire companies in Spain require drivers to be 25. There are also some companies that allow drivers to be younger. Check the rental conditions.

There is a possibility to travel with a baby in case of most campervan hire companies in Spain.
Which rental companies are available in Spain?
There are plenty of campervan hire companies that are value for money in Spain. The most popular ones are McRent, Touring Cars, and Indie Campers.
McRent
McRent is the most popular campervan hire company in Spain. It offers a number of useful amenities, along with unlimited mileage, in their basic package. The company is available in 17 cities, including:
Alicante

Madrid

Barcelona

Malaga

Girona
Touring Cars
Touring Cars is the synonym of value for money. Their vehicles always come with 24/7 road assistance and GPS. The company is available in many Spanish cities, including:
Almería

Barcelona

Girona

Madrid

Malaga
Indie Campers
Indie Campers rank among the 3 most popular campervan hire companies in Spain. Their vehicles offer kitchen kits and bedding kits in the basic package. The company is available in such cities as:
Madrid

Barcelona

Malaga

Seville

Bilbao

Valencia
Many rental companies in Spain offer free airport transfer for your convenience. Please contact the selected rental company beforehand. Most of the branches are also easily reachable by public transport or taxi. Remember to always pick up taxis at official taxi ranks.
Categories of campervans in Spain
Small campervans
2 - 4 people
Fuel consumption: 10 - 20 l / 100 km
For people who don't need much space
Pros: mobile, compact, low rental price
Luxury motorhomes
3 - 7 people
Fuel consumption: ca. 25 l / 100 km
For people who like high comfort
Pros: spacious, high comfort, exclusive equipment
Large motorhomes
3 - 7 people
Fuel consumption: ca. 25 - 35 l / 100 km
For experienced drivers
Pros: comfortable, spacious
4WD campervans
2 - 4 people
Fuel consumption: ca. 16 l / 100 km
For people who love exploring the landscape
Pros: powerful engine, all-terrain
Truck campervan
2 - 5 people
Fuel consumption: ca. 30 l / 100 km
For intermediate drivers
Pros: all-terrain, comfortable, mobile, powerful engine
Semi-integrated
Despite their larger size, semi-integrated campervans are low-maintenance and consume less fuel in comparison to other campervan types. The wide choice of amenities that are always included in the basic package makes these vehicles perfect for families with children.
Panel truck
Adventurers who search for something lightweight and easy to drive should definitely consider a panel truck. Their size makes them ideal vehicles for the city as they can be parked virtually anywhere. This practical campervan is an option for couples and younger drivers.
Alcove
Since alcove campervans come in varieties for up to 7 people, they will be ideal for large families. The convenient interior ensures full independence while on the road. The alcove space above the driver's cab usually consists of a double bed. Alcove campervans will be perfect for more experienced drivers.
More than 300 locations worldwide
Worldwide campervan rental
Experience an Alaskan winter, explore the Australian Outback or a road trip on Route 66 –
renting a campervan is the best way to travel any part of the world! Discover
the ideal starting point for your holiday at our international locations. At
CamperDays you can rent a campervan from the USA, Canada, Australia, New Zealand, and many other destinations.
Internationally, we work with many well-established providers who rent out
campervans/motorhomes: from Cruise America and Road Bear RV, who are well-known
U.S. rental companies, to Jucy, whose core business is Australia and New
Zealand, and Apollo, which is a global company with lots of locations in Europe,
Australia and New Zealand.
Discover gorgeous cities, sunny Mediterranean beaches, deep green forests, and endless mountain ranges across Europe. With an RV, you are the master of your own destiny. Whether you want to visit multiple countries or linger around in one area for a longer period,
having a motorhome at your disposal gives you plenty of choices.
Compare the prices for different campervans, locations, and dates in our price comparison tool and find the most affordable option for your trip.
You don't have to go far to have an amazing motorhome holiday. The UK, with its diverse regions, is an ideal destination to travel to with a campervan.
Explore the gorgeous Scottish Highlands and the numerous castles spread across the UK. Get into nature on a multi-day hike in the national parks. Admire the history and architecture in the age-old cities. Or simply combine all of the above on a camper trip of a lifetime!
Expert advice

We will help you find the perfect campervan for your trip

Wide selection

Our partners are available across the globe at more than 300 locations

No hidden costs

We guarantee clear pricing and 100% transparency