Filter
1 Offers
for your holiday in Venice
Comfort Luxury
McRent4.5/570 km from Venice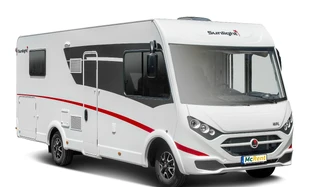 +9
4 adults
Manual
Diesel
Kitchen
Unlimited kilometres
2 beds
AC
Shower/WC
€1,935.00
 / 
€138.21

 per night
Destinations and rental stations in Italy
A unique holiday experience
Campervan hire in Venice
How does CamperDays work?
When planning your perfect campervan holidays, you need to take many elements into consideration to avoid a failure. In order to save yourself a lot of effort, CamperDays offers a perfect and hassle-free booking system that allows you to configure your perfect campervan within minutes. The only thing you need to do is to fill in the online form with your travel dates and let the system do the magic. Once the form is filled in, you will see a detailed list of results that can be narrowed down by dedicated filters, including the number of passengers, rental company, or equipment. The price range slider on your left-hand side may also come in handy. With CamperDays, no surcharges on the pick-up guaranteed.
1. Find a campervan

Simply enter your dates and location to begin your search.

2. Receive offers

Request or book the campervan you want to rent for a great price.

3. Book and go

Complete your booking and your unforgettable adventure can begin!
Why is it worth booking a campervan in Venice as early as possible?
Campervan enthusiasts often choose Italy as their holiday destination. The country offers everything that the lovers of four wheels enjoy: stunning landscapes, beautiful nature, and impeccable road conditions. Venice is one of the Italian cities where you can enjoy a wide rental offer. You probably wonder about the steps that you can take to ensure yourself a head start in getting the most affordable deal. Well, the answer is pretty simple, you need to try booking the RV in advance and avoid waiting until the last moment. Remember: first come, first served. When travelling in a campervan the only thing that limits you in your plans is your creativity. You can come up with endless itineraries and things to see. You no longer have to worry about affordable places to eat and stay for the night. Your own campervan is also a perfect environment to strengthen the bond between your family members. You can simply relax, enjoy the fun, and appreciate the views behind the window. If you still have many questions and concerns about your dream vehicle, the CamperDays customer service department is here to help you. We offer a very transparent and fair cancellation policy and all reservation changes are free of charge, so you do not have to worry about any potential changes that you would like to introduce into your holiday reservation.
FAQ - the most frequently asked questions about campervan hire in Venice
Your national driver's licence issued in the EU will be enough to rent a vehicle in Venice.

Yes, you need the main driver's credit card to pay for the deposit.

You can cross borders without any restrictions, however, remember to always inform the rental company about your plans.

Most companies allow for pets inside their motorhomes. More information can be found in the rental conditions.

Never camp wild in Italy, as it is not allowed by law.

You need to be at least 21 to rent a vehicle in Venice.

Toddlers are allowed inside campervans by most companies, so you can travel freely with your child.
Which rental companies are available in Venice?
McRent ranks among the most popular companies in Venice.
McRent
McRent's offer will be ideal for a variety of campervan enthusiasts – both rookie drivers and old hands. In its fleet, you will find both semi-integrated and fully integrated vehicles as well as panel trucks and alcove options. The campervans feature unlimited kilometres and an interesting insurance plan. Outside cleaning will surely come in handy after a long and exciting Italian adventure.
Full address of the McRent rental station in Venice:
Via San Feliciano 36
36045 Alonte Vicenza / Venezia
McRent does not offer complimentary airport transfer from and to Venice Marco Polo Airport (VCE) or Vicenza Airport (VIC). To reach the depot, you can take public transport. However, we advise you to try taking a taxi. It will be the most convenient and the fastest way to reach the rented campervan.
Categories of campervans in Venice
Small campervans
2 - 4 people
Fuel consumption: 10 - 20 l / 100 km
For people who don't need much space
Pros: mobile, compact, low rental price
Luxury motorhomes
3 - 7 people
Fuel consumption: ca. 25 l / 100 km
For people who like high comfort
Pros: spacious, high comfort, exclusive equipment
Large motorhomes
3 - 7 people
Fuel consumption: ca. 25 - 35 l / 100 km
For experienced drivers
Pros: comfortable, spacious
4WD campervans
2 - 4 people
Fuel consumption: ca. 16 l / 100 km
For people who love exploring the landscape
Pros: powerful engine, all-terrain
Truck campervan
2 - 5 people
Fuel consumption: ca. 30 l / 100 km
For intermediate drivers
Pros: all-terrain, comfortable, mobile, powerful engine
Panel truck
Panel trucks are vehicles created with couples in mind. The low fuel consumption is a great advantage during the rush hours. Panel trucks are always equipped with practical amenities and comfortable beds.
Alcove
Alcove campervans accommodate up to 7 people. Thus, they are the go-to vehicles for families with children and groups of friends. These vehicle offer a range of practical amenities and equipment pieces. Inside, you will find plenty of storage space.
Semi-integrated
Semi-integrated campervans have the driver's cab partially integrated with the rest of the vehicle. They offer interesting highlights and a very comfortable interior both during the day and night. Semi-integrated campervans are perfect for families with children.
Fully integrated
If you are searching for luxury and top-notch equipment, you should definitely go for a fully integrated vehicle. These are perfect for more experienced drivers as they take plenty of space on the road and are difficult to manoeuvre.
More than 300 locations worldwide
Worldwide campervan rental
Experience an Alaskan winter, explore the Australian Outback or a road trip on Route 66 –
renting a campervan is the best way to travel any part of the world! Discover
the ideal starting point for your holiday at our international locations. At
CamperDays you can rent a campervan from the USA, Canada, Australia, New Zealand, and many other destinations.
Internationally, we work with many well-established providers who rent out
campervans/motorhomes: from Cruise America and Road Bear RV, who are well-known
U.S. rental companies, to Jucy, whose core business is Australia and New
Zealand, and Apollo, which is a global company with lots of locations in Europe,
Australia and New Zealand.
Discover gorgeous cities, sunny Mediterranean beaches, deep green forests, and endless mountain ranges across Europe. With an RV, you are the master of your own destiny. Whether you want to visit multiple countries or linger around in one area for a longer period,
having a motorhome at your disposal gives you plenty of choices.
Compare the prices for different campervans, locations, and dates in our price comparison tool and find the most affordable option for your trip.
You don't have to go far to have an amazing motorhome holiday. The UK, with its diverse regions, is an ideal destination to travel to with a campervan.
Explore the gorgeous Scottish Highlands and the numerous castles spread across the UK. Get into nature on a multi-day hike in the national parks. Admire the history and architecture in the age-old cities. Or simply combine all of the above on a camper trip of a lifetime!
Expert advice

We will help you find the perfect campervan for your trip

Wide selection

Our partners are available across the globe at more than 300 locations

No hidden costs

We guarantee clear pricing and 100% transparency