Campervan hire > Motorhome types > Truck Camper
Go On an Adventure with a Truck Camper
A truck camper is a pickup truck with a cabin mounted onto the back part of the vehicle. This type of campervan is compact but easy to drive. Truck campers are ideal for beginners. The living area is in an alcove over the driver's seat, which offers enough space for up to three people.
Truck campers are robust and manoeuvrable vehicles. In comparison to an integrated motorhome, they are ideal for exploring the countryside and travelling on small country roads. This type of campervan is ideal for road trips through Canada or America. The attached cabin is comfortable and great for families and couples. 
Maximum 6 people

Medium

Class B
More About Truck Campers 
The cabin on the loading area of a pickup transforms the vehicle into a comfortable campervan. The living area inside is well thought out and offers everything you will need for an adventure holiday. There is a kitchenette, several sleeping areas and a small separate bathroom. The special design makes truck campers particularly compact and easy to drive.
Truck campers are an ideal choice for outdoor enthusiasts who would like to rent a campervan that is easy to drive and suits their individual needs. This type of campervan is ideal for short road trips or for long camping holidays.
Details & Features of Our Truck Campers
| | |
| --- | --- |
| Dimension | On average 7-8m long |
| Average fuel consumption | Around 20 L / 62 mile |
| Vehicle payload | On average 100-200 kg |
Interior
Kitchenette

Toilet

Shower, if applicable
Exterior
Air conditioning, if applicable

Awning, if applicable
Sleeping in a Pickup Camper: Your Own Mini Retreat for Rest and Relaxation 
The separate living cabin can accommodate up to three people. Just like in an alcove motorhome, you can also sleep in the alcove. In the alcove there is a double bed above the driver's seat and you can use it as a place to relax and rest. The seating area in a truck camper can also be converted into a bed just like in other campervans. This gives you the flexibility to use this area for socialising during the day, but in the evening you can turn it into a mini bedroom.  
Have Fun Cooking and Trying New Dishes in a Truck Camper 
In a truck camper you will find everything you will need to prepare tasty meals. The cabins have a well-equipped kitchenette with a hob, sink and fridge or cooler box. Some truck campers also have a microwave or an oven. Cupboards and drawers offer sufficient storage space for your cooking utensils, crockery and food so that you have everything you will need. This way, you can prepare your favourite dishes even when you're on the go.
Do You Have Any Questions About Renting a Motorhome?
Would you like to enquire about a motorhome or do you need further information before making a booking? You can contact us without obligation either from Monday to Friday 8am - 4pm by phone or at any time via our online contact form.
Driving & Safety on Board a Truck Campervan
In a truck camper you will enjoy a pleasant and safe journey thanks to the modern safety features. Anti-lock braking systems (ABS), airbags and other safety features are standard in all campervans that you can rent through CamperDays. The power steering helps you to manoeuvre the vehicle.
Truck campers are easy to drive and they offer a lot of comfort. The vehicle is equipped with comfortable seats to ensure a pleasant journey even on bumpy roads or for when going off-road. They are perfect for going on a day out or on a longer journey and you'll be able to explore the roads safely and enjoy the comfort of this fantastic campervan. Below we have listed some of the other vehicle's features:
Most models have air conditioning in the vehicle.

Some truck campers even have a built-in rearview camera to make parking and manoeuvring easier. 
 The compact size of the vehicle makes it ideal for beginners.
Here Is What Your Truck Camper Could Look Like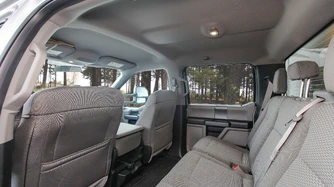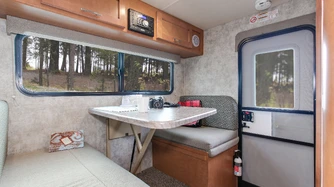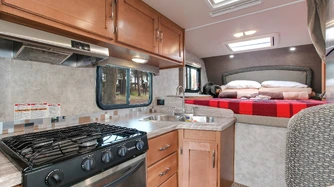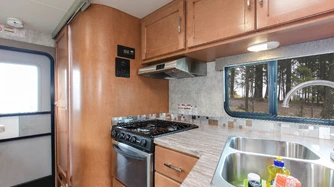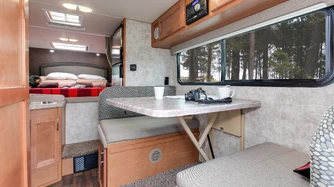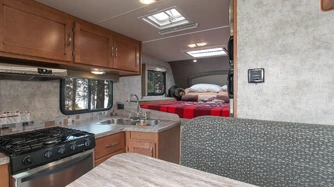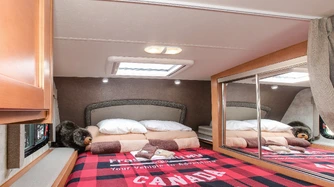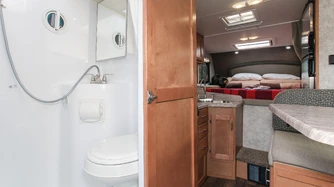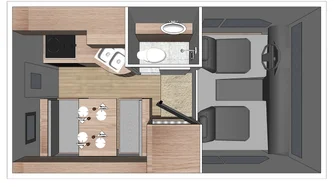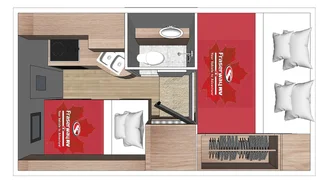 Tips on How to Book the Right Motorhome
The following tips below will help you to find the perfect motorhome for your holiday:
When choosing a motorhome, about how many people it will need to accommodate. This will ensure that there is enough space for everyone.

Consider in advance which features and additional services are important. Do you need a fully equipped kitchen, a separate bathroom with shower or a campervan that can accommodate more than three people? Rent a motorhome that best suits your needs.
Make sure to book in advance to avoid any disappointment. During the high season a lot of campervans are fully booked up. Therefore, by booking in advance you will be able to secure your preferred model and have a wider selection of campervans to choose from.

Accessories for Your Truck Camper
Depending on the model and campervan, you can choose to add various accessories. This will help you to have a stress free holiday and you will have more space in your suitcase for some fantastic souvenirs. You can choose to add bed linen and towels and a lot of campervan rental companies also offer kitchen utensils so that you are fully prepared for your campervan holiday. If you are travelling with children, you can usually request one or more child car seats to ensure their safety in the vehicle. Sometimes child car seats are not provided for insurance reasons, which means you will have to bring your own child car seat with you. However, keep in mind that fees apply for most accessories or add-ons. The costs can vary depending on the rental company and the type of accessory.
Frequently Asked Questions About Truck Campers
A 4x4 camper is a campervan with integrated four-wheel drive, which makes it ideal for going off-road or driving on rough terrains. A truck camper and a 4x4 have a similar design. However, a truck camper has 2-wheel or front-wheel drive and is therefore only suitable for tarmac roads.

A truck camper is a compact and easy to drive campervan. This type of campervan can accommodate up to three people. It has a kitchenette and plenty of storage space for a comfortable journey.
Other motorhome types that may interest you
We will help you find the perfect campervan for your trip

Our partners are available across the globe at more than 700 locations

We guarantee clear pricing and 100% transparency