Campervan Hire > Motorhome Type > Alcove
Large Motorhomes with an Alcove
An alcove motorhome is ideal for families or groups of up to six people. The sleeping area above the driver's seat (called an alcove) creates additional space. Motorhomes with alcoves combine the compact design of a semi-integrated motorhome and the generous space of a luxury motorhome.
These large motorhomes often have a double bed at the back as well as other sleeping areas in addition to the separate sleeping area in the main part of the vehicle. A kitchenette, several seats and a small bathroom are also standard in most models.
Maximum 6 people

Medium

Class B oo C
Everything You Need to Know About an Alcove Motorhome
Motorhomes with an alcove have a high roof and it is located above the driver's seat where there is room for up to two people. Alcove motorhomes belong to the group of semi-integrated motorhomes. This group is particularly popular with families, as these types of motorhomes offer plenty of sleeping and storage space. In a standard alcove motorhome there is usually a compact kitchenette, seating in the spacious living area and a separate toilet. In addition, many of them have a spacious rear storage area where you can put your luggage, camping equipment and other essentials.
The alcove design of a motorhome provides exceptional height ensuring that you never feel cramped whilst travelling. This type of motorhome has a spacious and open layout. You will quickly get used to the vehicle's height, but you need to be careful when driving near low bridges.
Details & Features of Our Alcove Motorhomes
| | |
| --- | --- |
| Dimension | On average 6-9 m long |
| Average fuel consumption | around 20 L / 62 miles |
| Vehicle payload | On average 300-500 kg |
Interior
Kitchenette

Toilet and shower

Television, if applicable

Separate sleeping area in alcove
Exterior
Awning, if applicable

Rear view camera, if applicable
Your Own Private Sleeping Retreat
The alcove has a comfortable bed with enough space for up to two people. The raised position separates the sleeping area from the rest of the living area. This creates a separate space for relaxing and resting.  This space will also come in handy when on a camping holiday with children. You can use the alcove like a little cave, where you can read and relax. However, it can only be reached via a ladder or stairs and is therefore not suitable for people with limited mobility. At the rear part of the motorhome there is usually another bed. Often the seating area can also be converted into a sleeping area.
Cooking in an Alcove Motorhome
Alcove motorhomes usually come equipped with a small but fully functional kitchen. In addition to a hob, there is usually a fridge and a sink. The kitchenette is typically designed so that you have space for all your utensils. Cupboards and drawers offer sufficient storage space for cooking utensils. The worktop has also been designed so that you can easily chop and season your food. Thus, the well thought out design allows you to prepare full meals in a small space.
Do You Have Any Questions About Renting a Motorhome?
Would you like to enquire about a motorhome or do you need further information before making a booking? You can contact us without obligation either from Monday to Friday 8am - 4pm by phone or at any time via our online contact form.
Driving & Safety on Board an Alcove Motorhome
An alcove motorhome is comfortable and a great choice for a campervan holiday. Most vehicles come equipped with modern features, such as airbags and ABS. We also put your children's safety first and this is why you can usually use safety nets. Depending on the model, these nets can be attached to the bed and ceiling with straps or snap hooks, for example, to stop your child from falling out of bed at night. As an alternative, you can use the safety nets to secure your luggage before setting off. Please contact our customer service for further information.
The motorhomes have comfortable driver and passenger seats that offer you maximum comfort even on long journeys. Below you will find a small list of the other features in our motorhomes:
Lots of vehicles come with integrated power steering.

Most alcove motorhomes have a built-in rear view camera, which makes parking and manoeuvring easier.

All models have air conditioning.
Here Is What Your Alcove Motorhome Could Look Like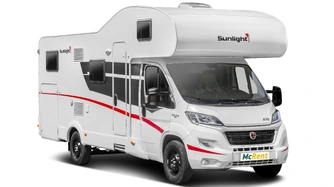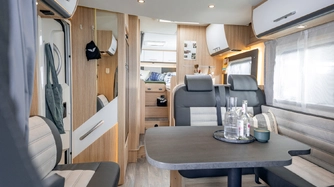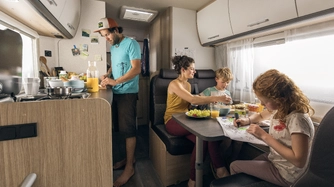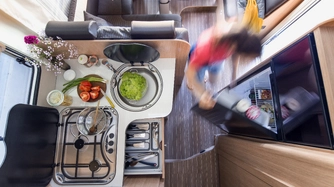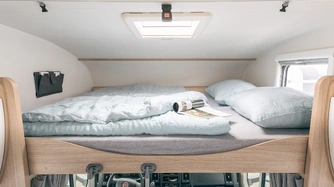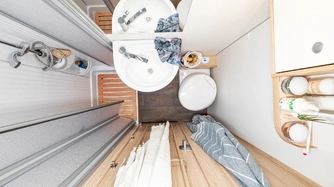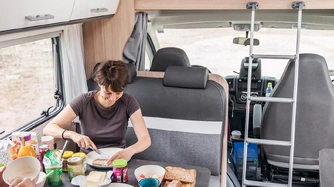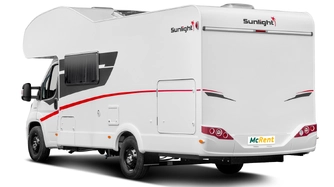 Tips on How to Book the Right Model
Alcove motorhomes allow families to explore the world in comfort. However, other types of motorhomes also have their advantages. Below we have put together a few helpful tips to help you find the perfect motorhome:
Make sure to choose a motorhome that is big enough, depending on how many people are going and how much luggage you will need.

When looking at costs don't forget to include the fuel consumption. Fuel consumption will vary depending on the model and size of the vehicle.

Look for additional features that will meet your needs. For example, you will need a dog friendly motorhome if you would like to take your dog on a campervan holiday.

Larger motorhomes are suited to more experienced drivers. Therefore, we recommend driving the motorhome around the rental site, especially if you have never driven one before.
Accessories for Your Alcove Motorhome
To make sure that you have a fantastic campervan holiday a lot of rental companies have optional extras. For a small fee you can choose to include crockery and cooking utensils as well as bed linen and towels. This will save you time and space when it comes to packing, which means that you will have a lot more room for souvenirs.
Some providers also rent out garden furniture such as camping tables and chairs, barbecue sets or children's seats. These and the other accessories will make sure that you have a fantastic and stress free camping holiday.
Frequently asked questions About Alcove Motorhomes
An alcove refers to the sleeping area above the driver's and passenger's seat, which adds an extra sleeping area in some motorhomes. This sleeping space is usually for two people. Alcove motorhomes are therefore a good choice for families or groups of up to six people.

Unlike fully integrated motorhomes or other models, alcove motorhomes have an additional sleeping area. This area is above the driver's seat. The rest of the vehicle is similar to a conventional semi-integrated motorhome.

A motorhome with an alcove offers an additional sleeping area without making it feel small and cramped. Spending a night in the alcove is also an exciting experience, especially for children.
Other motorhome types that may interest you
We will help you find the perfect campervan for your trip

Our partners are available across the globe at more than 700 locations

We guarantee clear pricing and 100% transparency