Campervan hire > Motorhome Type > Van
Smaller Campervans for Up to Four People
Smaller campervans are ideal for two people, whereas conventional motorhomes offer enough space for four to six people. A panel van quite often comes with a double bed. They also have enough storage space for everything you will need for your holiday. Depending on the model, a roof tent can be attached or a pop-top roof mattress can be folded out in the roof. This increases the overall space in the campervan      which can then accommodate up to four people.
Depending on which country and which rental company you rent a panel van from, the vehicle may just be a classic campervan or a car equipped with a fold-out bed in the boot. Below you can find out more about this type of campervan.

Maximum 4 people

Easy

Class B
What Is a Panel Van?
Vans are used in everyday life to transport heavy or bulky objects. Motorhome manufacturers have taken advantage of the large interior space in a van and cleverly converted it into a comfortable living and sleeping area. The result is an easy to drive campervan that offers a lot of comfort despite its compact size. However, these types of campervans don't always have a toilet on board, but quite often a portable toilet can be added. Larger models on the other hand      have space for a narrow shower and a toilet.
At McRent and roadsurfer small campervans are always very popular and in high demand. They are ideal for city breaks and days out in the mountains. It is easier to drive a smaller campervan on narrow and winding roads. During the winter depending on your chosen campervan, you can add snow chains to it.

Details & Features of Our Panel Vans
| | |
| --- | --- |
| Dimension | 7 m long |
| Average fuel consumption | Around 20 l |
| Vehicle payload | Around 300-400 kg |
Interior
Enough room for 2 people

Kitchenette

Small fridge or cool box

Gas cooker
Exterior
Awning, if applicable

Roof tent, if applicable
Sleeping In a Campervan: Lots of Comfort for a Small Space
Even the smallest campervans in our range have enough space to sit back and relax. Depending on the chosen model a maximum of two adults and two children can sit comfortably in the campervan on a double bed at the back of the vehicle, on folding seats or in the roof tent. A roof tent is very exciting for a lot of people because sleeping on the roof of a campervan is something very out of the ordinary. However, if you would like to spend the night at a campsite we recommend that you check in advance whether roof tents are permitted.

Cooking In a Panel Van: Small Space, Great Taste
Although in most panel vans space is quite limited there is usually a kitchenette with a small fridge and a gas cooker. This is everything you will need to prepare quick meals and snacks. There are also clever storage spaces for food, crockery and cutlery. Depending on the model you can also use the gas cooker on a special device on the outside of the vehicle. Modern panel vans also have a small sink and a seating area with a table where you can enjoy your meal.
Do You Have Any Questions About Renting a Motorhome?
Would you like to enquire about a motorhome or do you need further information before making a booking? You can contact us without obligation either from Monday to Friday 8am - 4pm by phone or at any time via our online contact form.
Driving & Safety on Board a Panel Van
Travelling in a panel van should be as comfortable as possible. You can use various filters on our website when looking for a campervan. This will make it easier for you to find the ideal campervan for your next holiday.
You can choose between an automatic or a manual campervan.

Depending on the model, air conditioning is included and it will help to keep you cool whilst travelling.

In Europe panel vans that provide space for child car seats are usually equipped with Isofix which is a leading car seat safety system.
All panel vans that you can rent through CamperDays have airbags and they meet the highest safety standards. Some models have power steering which will ensure a good driving experience. Depending on the size of the vehicle some are equipped with a rear view camera to make parking easier.
Here Is What Your Panel Van Could Look Like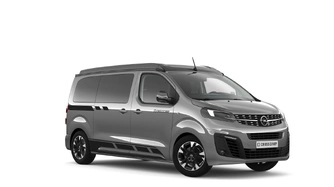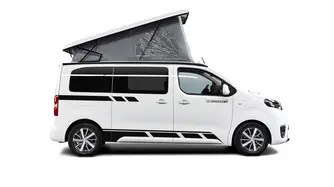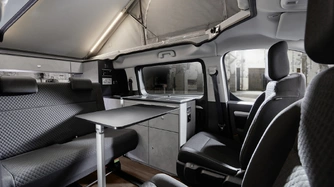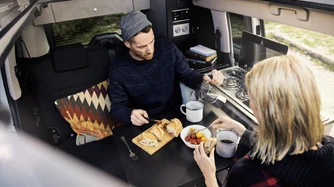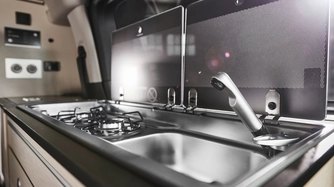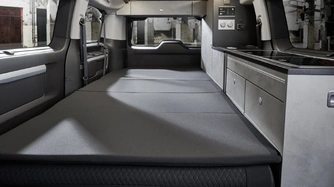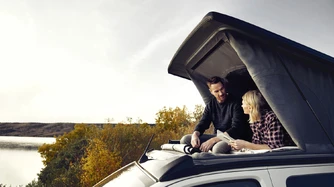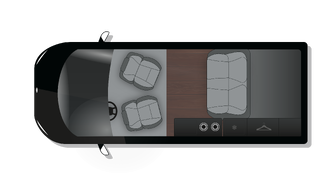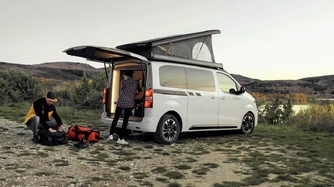 Tips on How to Book the Right Campervan
It's important to choose the right campervan so that you have a great campervan holiday. Families with children will want to book a different kind of campervan in comparison to a couple who would like to go on a camping holiday with their dog. The large selection of campervans at CamperDays ensures that there is a campervan for everyone. Below we have listed some helpful tips that will help you to find the perfect campervan.
Think about what features are important to you. Use the filters on our website to search and select the features and accessories you would like to have.

Almost all the campervans have a floor plan or photos of the interior. Browse through our wide range of campervans and choose one that suits you.

Depending on your driving experience and destination, it may be a good idea to rent a small campervan. Panel vans are available with a vehicle length of four metres.
Accessories for Your Campervan
The available accessories depend on the rental company and what model you have chosen. Sometimes bed linen can be added and you may have to pay a small fee for kitchen crockery. Almost all rental companies also offer premium insurance as a special service in addition to the basic insurance. This means that no excess needs to be paid. Please contact the rental company for more information about insurance. 
Frequently Asked Questions About Panel Vans
Panel vans usually wow people because of their size and how easy they are to drive. The vehicle has a compact size and it is ideal for beginners. In addition, trying to find a parking space and parking a panel van is a lot easier because of the size of the vehicle. They are usually about four or five metres long. Last but not least, they have a good price-performance ratio. This type of vehicle is also suitable for a small holiday budget.

A panel van is ideal for young holidaymakers who generally opt for a smaller campervan. It offers enough space for relaxing in the evening after long days out and it is easy to drive. They are the ideal choice for a smaller budget. Families with small children also enjoy going on holiday in a small campervan. Panel vans don't have a lot of room but they are the ideal choice for anyone who would like to spend most of their holiday outdoors. Panel vans are compact but quite cosy and great for relaxing in when the weather outside isn't great. 
Other motorhome types that may interest you
We will help you find the perfect campervan for your trip

Our partners are available across the globe at more than 700 locations

We guarantee clear pricing and 100% transparency