Campervan Hire > Motorhome Types > 4x4 Campervan
4x4 Campervan
Four-wheel drive campervans are a popular choice for adventure seekers who would like to travel off the beaten track and enjoy camping in the middle of nature. Our 4x4 campervans are usually a jeep style campervan equipped with a comfortable roof tent. This offers you unique overnight accommodation under the stars.
This type of campervan has an all-wheel drive, is robust and can be taken off-road. A four-wheel drive campervan is therefore ideal for off-road adventures as well as exploring remote areas. You can be spontaneous and choose different routes with a 4x4 campervan and they are perfect for exploring South Africa, Australia or Namibia. This type of campervan is ideal for both families as well as couples. The roof tent can easily be stowed away. 
Maximum 6

Easy

Class B
Start Your Adventure Today With a 4x4 Campervan
4x4 campervans have good traction and an all-wheel drive system in comparison to other campervans. It ensures that the tyres have a good grip whilst driving and they do not spin on loose or wet surfaces. Even steep mountain roads or demanding terrains are no problem for a 4x4 campervan. This type of campervan is perfect for going on adventures whilst on holiday and for driving on non-tarmacked roads.  
Most four-wheel drive campervans are equipped with a tent mounted onto the roof of the vehicle. You can easily get up and down from the tent via a small ladder. The advantage here is not only the good view, but you can also enjoy a feeling of safety and comfort in your elevated sleeping space. Thanks to the roof tent, the interior of the vehicle remains flexible and can be used as storage space for your luggage. The 4x4 campervan models with a roof tent offer an adventurous yet comfortable way to discover the world.
Details & Features of Our 4x4 Campervans
| | |
| --- | --- |
| Dimension | On average 5-6 m long |
| Average fuel consumption | Around 16 l / 62 miles |
| Vehicle payload | On average 100-200 kg |
Interior
Hob

Fridge

Toilet, if applicable
Exterior
Air conditioning, if applicable

Awning, if applicable

Relaxing and Sleeping in a 4x4 Campervan
In a 4x4 campervan you can spend the night in a spacious roof tent attached to the roof rack. This takes classic camping to a whole new level. Depending on which model you rent, they can accommodate between two to four people in one or two tents. Some of the campervans also have a sleeping area in a small cabin.
The roof tent is quick and easy to set up. In just a few steps you can create a comfortable sleeping area above the vehicle. The tent is not too high, therefore, you will be protected from the wind and rain and you can watch the birds and your surroundings awaken after your restful night's sleep.
Your Practical Mobile Kitchen 
Lots of 4x4 campervans that you can rent through CamperDays have a small kitchen. There is usually a gas cooker with various features that you can use to prepare your meals. The vehicle is usually equipped with a fridge or a cool box and storage space for crockery and food. A large water tank provides you with enough water for cooking and washing up. When the weather is nice you can cook outside thanks to a protective awning and the right accessories.
Do You Have Any Questions About Renting a Motorhome?
Would you like to enquire about a motorhome or do you need further information before making a booking? You can contact us without obligation either from Monday to Friday 8am - 4pm by phone or at any time via our online contact form.
Driving & Safety on Board a 4x4 Campervan
4x4 campervans are designed to drive safely even on bad or bumpy roads and on challenging terrains. Our vehicle models are equipped as standard with modern safety features such as ABS and airbags. Lots of our 4x4 models have additional front bumper guards and headlights.
Whether on long journeys or off-road expeditions, a 4x4 campervan offers a lot of comfort and it plays a decisive role in ensuring that you can enjoy your holiday to the fullest. Comfortable seats and air conditioning in the vehicle guarantee maximum comfort for a pleasant and relaxing holiday. Below we have listed the other features of a 4x4 campervan:
The integrated power steering makes driving easier.

The vehicle also has robust bumpers that help to protect the vehicle in case of a collision.
Off-road tyres provide the necessary grip on unsealed roads.
Here is What Your 4x4 Camper Could Look Like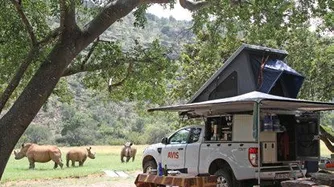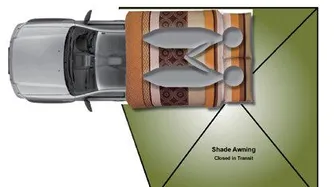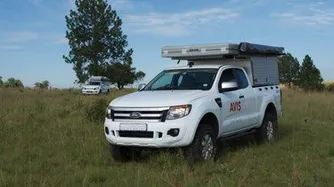 Tips on How to Book the Right Motorhome
If you rent a 4x4 campervan you have the freedom to explore different routes and go off-road. However, each type of campervan has its own advantages. The following useful tips below will help you to find the perfect campervan for your next holiday:
Think about the places you would like to visit and how many people would be going. Larger models offer more space and comfort, whereas compact 4x4 campervans are easier to drive on narrow roads and rough surfaces.

Don't forget to rent any accessories that you will need for your 4x4 campervan on holiday. Think about what you will need to rent in advance such as bed linen, towels or camping furniture to avoid forgetting anything important.
Accessories for Your 4x4 Campervan
When renting a 4x4 campervan you can choose to add some accessories to the vehicle. You can rent practical extras such as household or technical items from the rental company to help you have a stress free holiday. You can add an additional tent which will create another sleeping area or you can use it for relaxing and spending time with family or friends when the weather isn't great. You can also choose to book a Sat Nav or a satellite phone for travelling to remote regions.
For a little extra comfort some rental companies offer a hard-shell roof tent for an extra charge. These are more stable than fabric tents and have better insulation. Booster seats and child car seats are available for a camping holiday with children. Being prepared and having the right accessories will ensure that you have a fantastic campervan holiday and enjoy it to the fullest. 
Frequently Asked Questions About 4x4 Campers
You can usually drive a 4x4 campervan all year round. They are a great choice for the winter months thanks to their hard-shell roof tent. Off-road vehicles have good traction even in difficult weather conditions. 

When renting a 4x4 Campervan please double check the terms and conditions about which places you cannot visit at certain times of the year. In Northwest Australia, for example, the rainy season can cause flooding and roads can become inaccessible. This should not be attempted even with a 4x4 campervan.

All-wheel-drive motorhomes allow you to travel off the beaten track, which gives you the opportunity to discover remote regions and explore untouched landscapes. A 4x4 vehicle with an all-wheel drive system makes driving easier even on difficult surfaces.

You don't need any special driving skills or to be an experienced driver to drive most 4x4 campervans.  You will need a class B driving licence to rent a 4x4 campervan. However, it can be helpful if you familiarise yourself with the vehicle in advance and take it for a test drive when you pick it up.
Other motorhome types that may interest you
We will help you find the perfect campervan for your trip

Our partners are available across the globe at more than 700 locations

We guarantee clear pricing and 100% transparency