Campervan hire > Motorhome Type > Semi-Integrated Motorhome
Semi-Integrated Motorhomes
A semi-integrated motorhome is the ideal choice for a family holiday, couple's holiday or a holiday with friends. It is spacious with its (usually) maximum weight of 3.5 tonnes, which makes it easy to drive. The main difference between a semi-integrated motorhome and an integrated motorhome is that the living area isn't in the same area as the driver's seat. In a semi-integrated motorhome there may be a narrow space between the living area and the driver's seat, which reduces the overall size of the living area.
Depending on the model, semi-integrated motorhomes have a classic layout with a spacious double bed and additional sleeping areas. The vehicle also has a bathroom and sufficient storage space. Below you can find out more about this type of motorhome.
Maximum 5 people

Medium

Class B or C
What Is a Semi-integrated Motorhome? 
Semi-integrated motorhomes are easily recognisable by their shape and design. The living area is partially integrated into the area where the driver's seat is. However, the exterior of the vehicle gives the impression that they are completely separate. The driver's and passenger's seats are easy to turn and they can be used as seats at a dining table. Typically, semi-integrated motorhomes offer a spacious and well designed living area with a kitchenette, toilet and seating area. The vehicle can also be equipped with an alcove, which provides an extra sleeping area above the driver's seat.
Semi-integrated motorhomes have a compact size, but they are still a great choice especially if you don't want to forgo any comfort. They are easy to drive even for beginners.
Details & Features of Our Semi-Integrated Motorhomes
| | |
| --- | --- |
| Dimension | On average 6-8 m long |
| Average fuel consumption | Around 13 L / 62 miles |
| Vehicle payload | On average 300-500 kg |
Interior
Kitchenette

Toilet and shower

Television, if applicable
Exterior
Awning, if applicable

Storage
Sleeping In a Semi-Integrated Motorhome Offers a Great Night's Sleep
You will get a good night's sleep in a semi-integrated motorhome. This type of motorhome offers enough space for up to five people. The vehicle usually has a double bed in the rear and up to three other cleverly integrated sleeping areas. Depending on the model, you can even convert the seating area into a second double bed and some models even have a pull down bed that is fitted just under the ceiling. You can pull down the bed either manually or with a remote. 
Cooking In a Semi-Integrated Motorhome: Small Space, Delicious Meals
In a semi-integrated motorhome there is enough room to get creative and to try out new dishes. Despite the limited space the kitchenette has a practical design to make sure that cooking doesn't become stressful. You will have everything you will need to prepare delicious meals. In the kitchen there is a fridge, hob with up to 3 zones and a sink. The kitchenette offers plenty of storage space for your cooking utensils and food. Depending on the model, you can even extend or reduce the size of the worktop.
Do You Have Any Questions About Renting a Motorhome?
Would you like to enquire about a motorhome or do you need further information before making a booking? You can contact us without obligation either from Monday to Friday 8am - 4pm by phone or at any time via our online contact form.
Driving & Safety on Board a Semi-Integrated Motorhome
Safety and comfort are our top priorities. The vehicles have ABS, airbags and very high safety standards. The aerodynamic design of the motorhome also contributes to a pleasant and safe journey. In addition, the motorhomes have ergonomic seats so that you can sit comfortably even on long journeys. The integrated power steering makes driving the vehicle even easier. On some models, a rearview camera will help you to park and manoeuvre. A semi-integrated motorhome offers a safe and unforgettable driving experience on short and long journeys. 
Here Is What Your Semi-Integrated Motorhome Could Look Like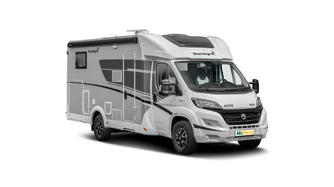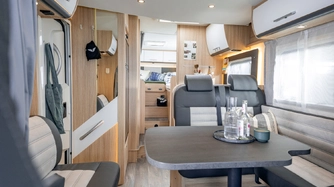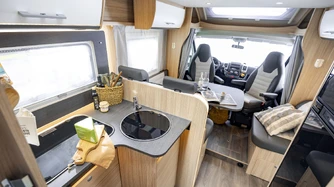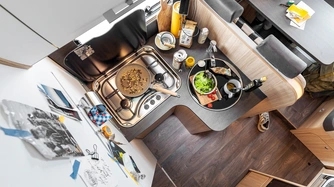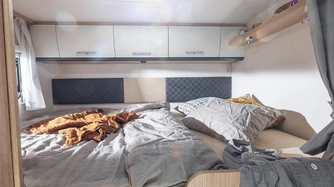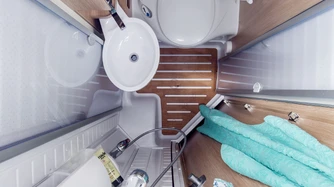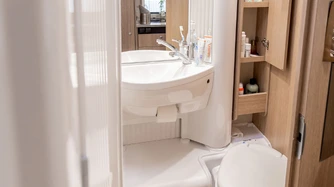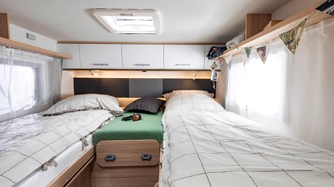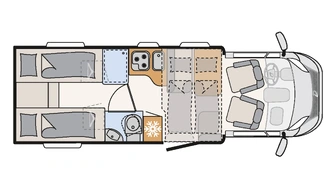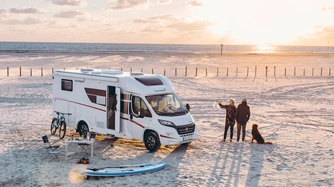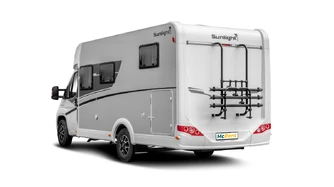 Tips on How to Book the Right Motorhome
When you are on holiday a motorhome will become your temporary home. Families with small children would choose a certain type of motorhome that would suit their needs, whereas a couple who are going on a camping holiday with their dog would be looking for something a bit different. Therefore, it is important that you take your time and choose the right model to suit your needs. Below we have listed some useful tips that will help you to choose the right motorhome:
When searching for a motorhome you can use the filters on our website. You can filter the type of vehicle as well as what it should have such as a television or air conditioning.

Not all rental companies allow dogs. Therefore, make sure to double check before booking whether you can take your dog with you.

Don't forget to compare the different insurance policies and any additional services or motorhome accessories that the rental company may offer.
Accessories for Your Semi-Integrated Motorhome  
When booking your semi-integrated motorhome, depending on the rental company you may have the option of booking accessories for your motorhome and additional services. Some rental companies even provide bed linen and towels. As extras, you can also often request kitchen utensils, child car seats and bicycle racks. Camping furniture such as tables and chairs are also usually available for the best possible outdoor experience.
Some motorhome rental companies also offer other extras such as a small gas barbecue, a Sat Nav or folding bicycles. Double check before requesting any of these as fees may apply.
Frequently Asked Questions About Semi-Integrated Motorhomes
The living area in a semi-integrated motorhome doesn't have an open layout, whereas in an integrated motorhome the living area and driver's seat are in the same part.  Integrated motorhomes often have a larger living area and some of them even have luxury features. However, semi-integrated motorhomes are easier to manoeuvre thanks to their great design and they can also reach a higher speed.

Semi-integrated motorhomes have a compact size, but they offer sufficient living space. They have a flexible layout and they are also typically spacious and comfortable and provide a pleasant driving experience thanks to their aerodynamic design.

An A or B class car driving licence is usually enough to drive a semi-integrated motorhome. This rule generally applies in Europe for a vehicle with a maximum weight of 3.5 t. Therefore, we recommend checking the specific requirements for the country where you would like to travel.
Other motorhome types that may interest you
We will help you find the perfect campervan for your trip

Our partners are available across the globe at more than 700 locations

We guarantee clear pricing and 100% transparency