Campervan hire > Motorhome types > Fully-Integrated Motorhomes
Integrated Motorhomes 
A luxury motorhome is the perfect way to enjoy your next campervan holiday in style. These types of motorhomes have plenty of space and they ensure that you have a great journey and you sleep well. They are ideal for families or two people. In an integrated motorhome the living room and driver's seat are in one area. This creates a large living space. In addition, the motorhome has a wider than average windscreen. However, with an average length of 6 to 10 metres driving an integrated motorhome requires practice.
Below you can find out more about what you should be aware of when choosing a motorhome and what makes luxury motorhomes so special. 
Maximum 6 people

Medium

Class B or C
More About Fully-Integrated Motorhomes 
Integrated motorhomes are at the high end of the motorhome market. Depending on the motorhome rental company, integrated motorhomes may have a different name.
There are significant differences in size and features between the models in North America and in Europe. For example, an A-Class Family Sleeper is a luxury motorhome that is designed especially for families with children and can be rented in America. This means the vehicle has several sleeping areas and various family friendly features such as an entertainment system. In Europe, the Comfort Luxury model from McRent represents a typical vehicle in this category.
In general, an integrated motorhome is considered a premium vehicle with luxury features. They have high ceilings so that you are able to walk about, a light and spacious living area and high-quality furniture and interior.
Europe
Comfort Luxury - McRent
North America
Class A - El Monte
Details & Features of Our Motorhomes Integrated
| | |
| --- | --- |
| Dimension | On average 6-10 m long |
| Average fuel consumption | Around 25 l / 62 miles |
| Vehicle payload | On average 100-300 kg |
Interior
Large kitchen

Toilet and shower

Television, if applicable

Seating area and sofa

Quite often there is a separate bedroom

Air conditioning
Exterior
Waste water and fresh water tanks

Awning

Storage     
Sleeping in an Integrated Motorhome Will Make You Feel Rested and Refreshed
An integrated motorhome usually has a completely separate bedroom. Sometimes the seating area can be converted into a bed where children or other travellers can then sleep. Some models even have a pull down bed. You can find it directly under the roof and during the day it can be folded back up and then pulled back down in the evening. Certain models even have a remote to operate the pull down bed. The mattresses in the vehicle are high quality and ensure you have a good night's sleep.
Cooking in an Integrated Motorhome 
You can make a range of dishes in the spacious kitchen. In the kitchen there is a fridge, a small hob and, depending on the model, a microwave or an oven, which makes cooking breakfast, lunch and dinner very easy. The motorhome also has enough storage space for your cooking utensils and food. For any special requirements for the kitchen make sure to double check the details of the integrated motorhome before booking.

Do You Have Any Questions About Renting a Motorhome?
Would you like to enquire about a motorhome or do you need further information before making a booking? You can contact us without obligation either from Monday to Friday 8am - 4pm by phone or at any time via our online contact form.
Driving & Safety on Board an Integrated Motorhome
Safety is our number one priority here at CamperDays. Each motorhome is equipped with airbags on the driver's side. Everything in the vehicle has been well-fitted to ensure that you have a safe and stress free journey.
Those who rent an integrated motorhome can also expect the highest level of driving comfort. In addition to power steering, the motorhome also has an adjustable driver's seat that is comfortable and supports your back, especially on long journeys. The raised position of the driver's seat and the large windscreen give you a great view of your surroundings so that you can drive safely. Most integrated motorhomes have a rear view camera or parking aid so that you can easily park your motorhome. We recommend our customers to do a quick test drive on the rental site before setting off. Take your time to adjust the seat and get used to the vehicle. This will help you to have a safe journey and a fabulous holiday.
Here Is What Your Integrated Motorhome Could Look Like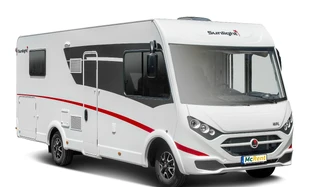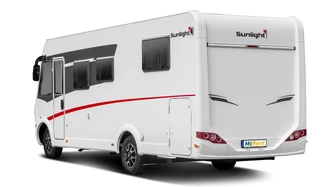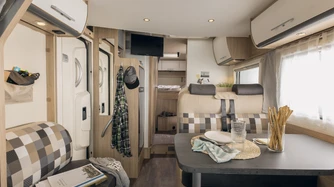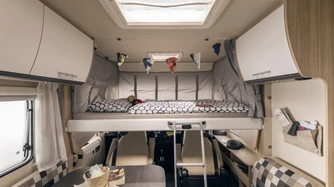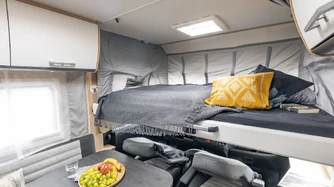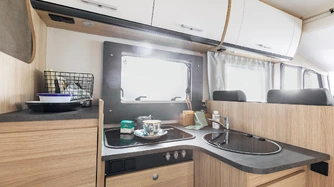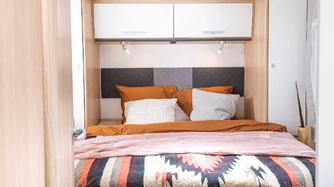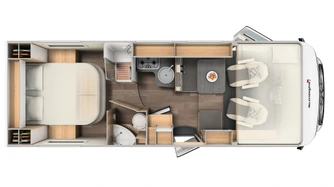 Tips on How to Book the Right Motorhome
Choosing the right motorhome is down to your own personal preferences and needs. Some people prefer more comfort, whereas others spend most of their holiday outdoors and only need enough space for sleeping. We have a wide range of motorhomes to choose from and there is something for everyone.
Choose a vehicle that you would feel comfortable driving. It is a good idea to practice driving an integrated motorhome around the rental site before driving to your holiday destination.

Draw up a list of the interior and exterior features that are important to you. This will make it easier when comparing different models.

Use the filters when searching for a motorhome on our website. Here you have the option of specifying the price range. An integrated motorhome is more expensive than a semi-integrated motorhome or a standard campervan.
Accessories for the Perfect Campervan Holiday 
Not many people enjoy packing and then worrying about if they have forgotten something important. We are here to help you every step of the way to make sure that you have a stress free holiday. You can choose to add towels and bed linen and then collect them on the day when picking up your motorhome. Other accessories such as a camping table and chairs or basic kitchen crockery are already included with a lot of models. You can check what is included by having a look at the features on the chosen model. When making a booking and if you would also like to add a child car seat or a bicycle rack this can usually be done with one simple click.
Frequently Asked Questions About Integrated Motorhomes
In an integrated motorhome the living area is in the same part as the driver's seat. This uniform design ensures that the entire interior of the motorhome can be used as a living space. Whereas a semi-integrated motorhome has a separate area for the driver's seat and the living area is also separate.  In a semi-integrated motorhome there may be a narrow space between the two, which reduces the space of the living area.

An integrated motorhome offers plenty of space and comfort. Integrated motorhomes have a lot of space and there is a large kitchen, toilet and living space. The spacious layout and the features make the overall experience unforgettable for everyone on board.
Other motorhome types that may interest you
We will help you find the perfect campervan for your trip

Our partners are available across the globe at more than 700 locations

We guarantee clear pricing and 100% transparency