Filter
2 Offers
for your holiday in Tallinn
Urban Plus
McRent4.5/56 km from Tallinn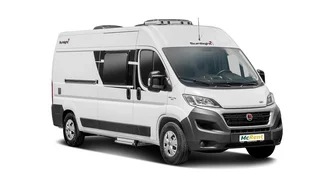 +9
2 adults
Manual
Diesel
Kitchen
Unlimited kilometres
1 beds
AC
Shower/WC
€1,645.00
 / 
€117.50

 per night
Family Standard
McRent4.5/56 km from Tallinn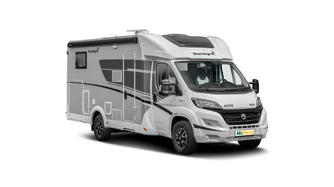 +11
4 adults
Manual
Diesel
Kitchen
Unlimited kilometres
3 beds
AC
Shower/WC
€1,765.00
 / 
€126.07

 per night
Destinations and rental stations in the region
A unique holiday experience
Campervan hire in Estonia
How does CamperDays work?
CamperDays has gained its position as one of the most popular RV booking websites in Europe thanks to our simple online booking tool. On our website, you will quickly compare most favourable offers in a given country and secure your dream campervan in next to no time. In order to start the search, it is enough to fill in the form with the dates of your holidays.
Once you fill in the appropriate dates, you will be presented with a comprehensive list of vehicles. The list of campervans can be easily narrowed down. Each result also features a photo of the campervan along with its specification and complimentary amenities. Apart from a list of dedicated filters, there is also an option to use a price range slider to adjust the displayed campervans to your needs. To make this booking system even more enjoyable and user-friendly, we made sure that there are no surcharges on the pick-up.
1. Find a campervan

Simply enter your dates and location to begin your search.

2. Receive offers

Request or book the campervan you want to rent for a great price.

3. Book and go

Complete your booking and your unforgettable adventure can begin!
Why is it worth booking a campervan in Estonia early?
The cultural uniqueness of Estonia, along with its stunning landmarks and breathtaking nature parks, is worth exploring on your own terms – in a campervan. This exceptional means of transport will surely provide you with plenty of freedom and flexibility. Apart from spending more quality time with your family and unplugging for a while, you can discover Estonia at your own pace. You are never limited by any timetables and can easily change your plans whenever you please. The fact that you can cook and sleep in your own vehicle is a benefit in itself, allowing you to save time and money that you would otherwise spend on hotels and restaurants.
What can you do to ensure yourself the best available vehicle for your Estonian holidays? Taking into consideration that the most popular period for campervan hire in Estonia is between June and August, it is best to try renting a vehicle a little over 5 months in advance. Early action is a guarantee of getting the best combination of your favourite campervan make, equipment, availability, and price. The average campervan hire in Estonia costs 145.12 euros per day, and the average travel time is 22 days.
You are still hesitant about renting a campervan and you are not sure about the exact dates of your trip? There is nothing simpler than contacting the CamperDays customer service. We will quickly find answers to all your questions and resolve your doubts. What is more, the greatest advantage of CamperDays is a cancellation policy that is very transparent. You can also benefit from no additional costs for reservation changes.
FAQ - the most frequently asked questions about campervan hire in Estonia
In order to rent a campervan in Estonia, you just need your national driver's licence that has been issued in the EU.

The deposit has to be paid with the main driver's credit card.

You can cross borders, but remember to always inform the selected rental company about your plans beforehand.

Most campervan hire companies will allow you to travel with a pet.

Camping wild is generally permitted in Estonia. Avoid camping on private land.

Generally, the minimum age in Estonia to rent a motorhome is 21.

There are no restrictions when it comes to travelling in a campervan around Estonia.
Which rental companies are available in Estonia?
There are a number of value for money campervan hire companies in Estonia. The most popular ones are Touring Cars and McRent.
Touring Cars
Touring Cars is one of the 2 most popular campervan hire companies in Estonia. In its basic package, you can find unlimited mileage and kitchen equipment. You will also enjoy a number of practical amenities that will help you to stay fully independent while on the road. Touring Cars is available in Tallinn.
McRent
McRent's vehicles come with a number of useful amenities that may come in handy while on campervan holidays. Along with a standard insurance, you can also enjoy security package and breakdown cover. The company is available in Tallinn and is one of the 2 most popular campervan hire companies in the country.
There are campervan hire companies in Estonia offering complimentary airport transfer. In order to take advantage of this service, you should always book it in advance and contact the company beforehand. You can also reach the depots by taking a taxi. Remember to pick them up at official taxi ranks near the airport. We also advise you against taking unlicensed vehicles for your own safety.
Categories of campervans in Estonia
Small campervans
2 - 4 people
Fuel consumption: 10 - 20 l / 100 km
For people who don't need much space
Pros: mobile, compact, low rental price
Luxury motorhomes
3 - 7 people
Fuel consumption: ca. 25 l / 100 km
For people who like high comfort
Pros: spacious, high comfort, exclusive equipment
Large motorhomes
3 - 7 people
Fuel consumption: ca. 25 - 35 l / 100 km
For experienced drivers
Pros: comfortable, spacious
4WD campervans
2 - 4 people
Fuel consumption: ca. 16 l / 100 km
For people who love exploring the landscape
Pros: powerful engine, all-terrain
Truck campervan
2 - 5 people
Fuel consumption: ca. 30 l / 100 km
For intermediate drivers
Pros: all-terrain, comfortable, mobile, powerful engine
Panel truck
Panel trucks will be the most convenient travel option for 2 travellers. They are ideal for less experienced drivers, as they can be easily parked in the cities. What is more, their compactness also makes them more economical in comparison to other vehicles.
Semi-integrated
One of the most popular campervan types for travelling around Estonia is a semi-integrated vehicle. They are perfect for families with children or for 4 travellers. Despite their slightly larger size, they are also pretty low-maintenance.
Alcove
The characteristic feature of alcove vehicles is a sleeping space located above the driver's cab. It can be easily converted into an additional storage space during the day, making this type of campervan even more practical.
More than 300 locations worldwide
Worldwide campervan rental
Experience an Alaskan winter, explore the Australian Outback or a road trip on Route 66 –
renting a campervan is the best way to travel any part of the world! Discover
the ideal starting point for your holiday at our international locations. At
CamperDays you can rent a campervan from the USA, Canada, Australia, New Zealand, and many other destinations.
Internationally, we work with many well-established providers who rent out
campervans/motorhomes: from Cruise America and Road Bear RV, who are well-known
U.S. rental companies, to Jucy, whose core business is Australia and New
Zealand, and Apollo, which is a global company with lots of locations in Europe,
Australia and New Zealand.
Discover gorgeous cities, sunny Mediterranean beaches, deep green forests, and endless mountain ranges across Europe. With an RV, you are the master of your own destiny. Whether you want to visit multiple countries or linger around in one area for a longer period,
having a motorhome at your disposal gives you plenty of choices.
Compare the prices for different campervans, locations, and dates in our price comparison tool and find the most affordable option for your trip.
You don't have to go far to have an amazing motorhome holiday. The UK, with its diverse regions, is an ideal destination to travel to with a campervan.
Explore the gorgeous Scottish Highlands and the numerous castles spread across the UK. Get into nature on a multi-day hike in the national parks. Admire the history and architecture in the age-old cities. Or simply combine all of the above on a camper trip of a lifetime!
Expert advice

We will help you find the perfect campervan for your trip

Wide selection

Our partners are available across the globe at more than 300 locations

No hidden costs

We guarantee clear pricing and 100% transparency