Hassle-free travel - the CamperDays Security Promise
The flexible travelling that we love so much is unfortunately no longer guaranteed in view of the current situation. During these turbulent times, however, we want you to be able to plan your campervan holiday completely hassle-free. With our CamperDays Security Promise, we guarantee you flexible rebooking and cancellation conditions as well as optimum protection before, during and after your trip.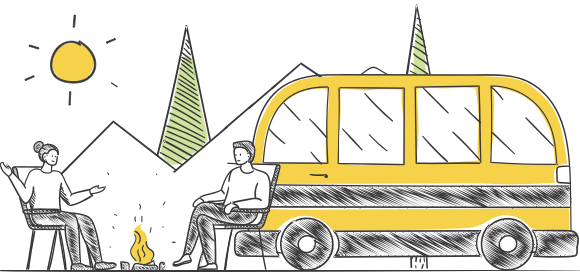 Our Security Promise:
1. No additional fees
CamperDays does not charge any additional rebooking or cancellation fees. In addition, the rental companies on our price comparison usually offer accommodating cancellation periods. view here.
2. Fast refunds
Should your booking have to be cancelled, we will of course refund your advance payment as quickly as possible to your credit card account - conveniently and without long waiting times.
3. Free customer service
Our customer service, which has won several awards and is free of charge, will advise you by telephone on +44 8081890178 to clarify any open questions or concerns about your trip.
4. High hygiene standards
We only work with reputable partners who can guarantee thorough and professional disinfection of the campervans.
Why are we sure that we can keep this promise on security?
These four points have been the focus of our work from the very beginning, not just since the Corona crisis. We want to guarantee absolute security for your campervan booking at all times. In addition, we work exclusively with rental companies that we ourselves are confident of and are in constant exchange with our partners. Don't believe us? Take a look at what our customers have to say about us on Trustpilot. With over 500 reviews and an average score of 4.6 points, we also demonstrate here how important outstanding customer service is to us.
Contact us
Our award-winning and free customer service team will be happy to advise you on any open questions or concerns regarding your trip.